Season AZ-talent Stengs at the end by a torn cruciate ligament
Photo: ProShots
AZ can this season, no longer appeal to Calvin Stengs. The 18-year-old midfielder has Saturday in the duel with PSV in the anterior cruciate ligament in his right knee torn. That turns out Monday from research, reports AZ.
Stengs had in the lost duel (3-2) already in the eighth minute to the side, because his knee was dubbelgeklapt. He was by stretcher from the field worn.
The young midfielder stood Saturday for the first time in the basis for competition in the regular season of the Eredivisie. Last season he made an impression in the play-offs for European football against FC Groningen twice to score.
Coach John van den Brom responded Saturday already affected by the injury of Stengs. "We lose, that's annoying. But we also lose Calvin and that we are for the time being, lost. The doctor was very negative. His injury I think is worse than this defeat. Calvin is a talented boy who is massive in shape."
AZ rewarded Stengs at the end of may with a new five-year contract, which he is now until 2022 at the club from Alkmaar is connected.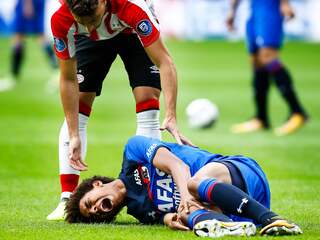 See also:
AZ expected to pass in coming days clarity about severity of injury Stengs