Schippers put the point behind "great" outdoor season there
Dafne Schippers will be Friday, not in action at the Diamond League competition in Brussels. The world champion in the 200 meters put a point behind its successful season.
"It's a great outdoor season there have been with my second gold world CHAMPIONSHIP medal in the 200 metres and bronze in the 100 metres. I will the fantastic world CHAMPIONSHIPS in London never forget!", writes the 25-year-old Skippers on Tuesday on Facebook.
"It is now time to put an end to this beautiful season. I wanted to make the year quite happy to finish at the Diamond League final in Brussels, but I must be listening to my body."
"I want to thank everyone for the great support. It gives me so much energy and an extra motivation to perform well. I'm already looking forward to next season where I hope to be flames on the job."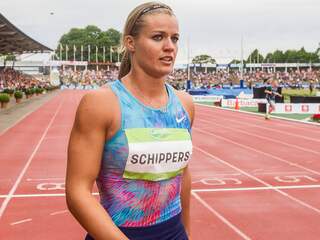 See also:
Skippers next to the stage on the 200 metres in Zurich, Farah wins last race
Birmingham
Schippers ran after the prolongation of her world title at the 200 metres in London was at the Diamond League in Birmingham and Zurich. In England ended with the Utrecht sixth in the 100 meters and last Thursday she was in Switzerland and fourth in the 200 meters.
At the Diamond League final on Friday in the King baudouin stadium in Brussels for the women's 100 metres on the program. At that distance away from the Boaters fifth in the standings of the Diamond League, especially by a victory at the beginning of June in Rome.
The Dutch won this year two times in a 200 meters in the lucrative series of athletic games; in mid-June in Oslo and the beginning of July in Lausanne.