Schiphol does next year trial with face detection
The Schiphol airport next year, an experiment with face recognition. The new technology need to make sure that people are faster from the terminal to the plane.
That sets Innovatiemanager Christiaan Them from the airport Monday in conversation with The Telegraph.
"High-tech follow and ID apps on smartphones are going in a few years the service part", says Them. "It contains personal data to them via smart scans on the fly along checkpoints."
Schiphol test all automatic douanepoortjes, that the passport and the face of travelers to scan. Next year, however, a more extensive trial is to be held.
Possible this seem like the 'Happy Flow'project at the airport of Aruba. There, passengers can once their passport, boarding pass and face scan if they the airport arrive. Then they could use their left hand and by the gate with only a gezichtsscan. Passport and boarding pass can then use the bag to remain.
According to Them, from Schiphol airport to the gates at checks at Schiphol airport open by default. They will only close if an additional control is required. That should be the flow of travelers quickly.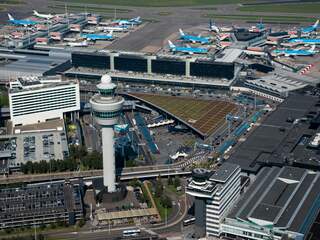 See also:
One hundred years of Schiphol airport: Bought for 55.000 guilders