Schiphol alerts for extra crowds due to holiday
Schiphol airport warns travelers for extra crowds due to the beginning of the spring break.
"We now expect to see around 208.000 travelers at the airport. Therefore we advise travellers to be on time. Keep in mind the time which the air carrier indicates and keep you there," said a spokesman.
"Even if you have hand luggage, and not more along the inckeckbalie do you need to be on time, in fact, the securitycheck these days extra pressure." Therefore, stresses to the airport and only items that are allowed. "Pay attention to what liquids and other stuff in the hand luggage. When everything is in order, that saves a lot of time for the securitycheck."
Schiphol airport has also taken measures to the hustle and bustle. "We have extra staff deployed in the securitychecks. This is now running on full occupancy. Also, there are more employees in the departure hall for travelers to provide information."
Yet it is not the hustle and bustle day of the year. "On the busiest day we expect on the basis of a prognosis on the basis of ticket sales and the number of flights a day around the of 225,000 passengers. The forecast is now that the busiest day in mid-August, but this can obviously still change."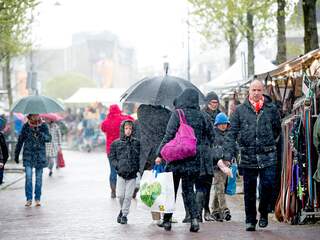 See also:
'Coldest may ever, in front of the door'