Samsung Galaxy S8 will sell twice as fast as a pastor in South Korea
Photo: NU.nl/Floris Port
The Samsung Galaxy S8 and S8+ sell twice as fast as their predecessors, the S7 and S7 the Edge, in its home country of South Korea.
Samsung has announced that there are now a million copies have been sold in South Korea, reports the local news site The Investor. The new smartphonevlaggenschip had 37 days to that milestone to reach, while the S6 and S7, respectively, 75 and 74 days.
Earlier this month Samsung announced that 10 million copies of the S8 and S8+ are shipped to retailers. There are more than 5 million sold to consumers.
Samsung said that the sales worldwide are 20 to 30 percent faster than the previous generation Galaxy smartphones.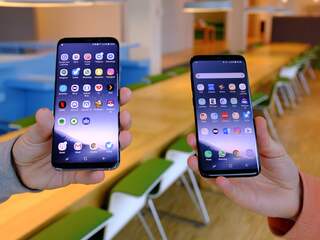 See also:
Review: Galaxy S8 feels like science fiction