Russia and Turkey: More counter-terrorism after death of ambassador
Photo: AFP
The Russian and Turkish ministers of Foreign Affairs promise more energy to put into fighting terrorism.
That explains the Russian ministry of Foreign Affairs Tuesday, after Monday the Russian ambassador to Turkey, Andrey Karlov, was shot dead in the Turkish capital of Ankara.
A gunman, dressed in a suit, shot the ambassador with a gun in his back during a speech at the opening of an exhibition. The man fired a number of bullets on Karlov, to the ground was dropped. There were in the attack, three other people injured, none of them serious.
After the shooting six people arrested. Five family members and a roommate of the shooter will be Tuesday answered.
The ministers of both countries prevailed in the night from Monday on Tuesday a phone call about the issue. Sergei Lavrov and Mevlut Cavusgolu underlined also the importance of provocations that aim to take the bilateral relations to undermine, to exclude. In addition, ministers discussed on the cooperation in the fight in Syria and Iraq.
Cavusgolu will Tuesday visit to Moscow for a meeting with his Russian and Iranian colleagues to the crisis in Syria to discuss.
Please note, shocking: Russian ambassador shot dead in Turkey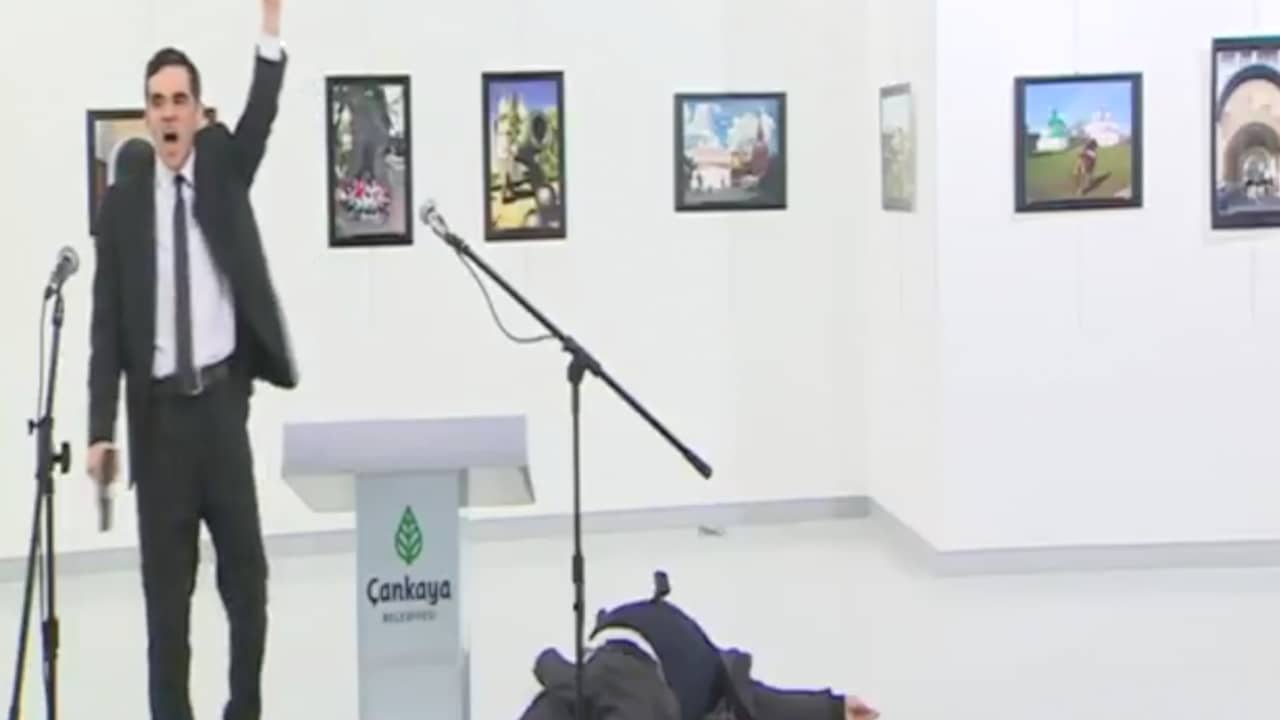 20
Erdogan
Turkish president Tayyip Erdogan said that the assassination attempt was intended to be the ties between Russia and Turkey to harm.
After a phone call with Russian president Vladimir Putin, he said that the cooperation and solidarity in the fight against terrorism only, but stronger and stronger by the murder of the ambassador.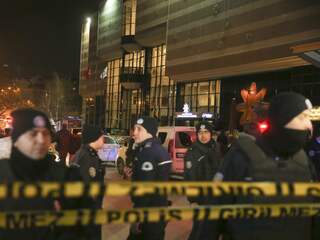 See also:
Russian ambassador in Turkey shot
Embassy
The Turkish police also took a man who fired shots in the air at the American embassy in Ankara. That happened a few hours after Karlov, was shot dead. No one was injured. The U.s. post in Turkey continue to Tuesday close.
According to the Turkish state news agency Anadolu shot the man 8 to 9 times in the air. The gun he kept hidden in his jacket.
Andrey Karlov shot in Ankara
Russian ambassador Andrey Karlov is at the opening of a photo exhibition in Ankara shot.
© Hollandse Hoogte
The Turkish police seal off the area for safety reasons.
© Hollandse Hoogte
A man, on Monday, the property with a fake police identification would have invaded, shot Karlov in his back.
© Hollandse Hoogte
The shooter is in a shootout with police and killed.
© Hollandse Hoogte
Share this photo via:
Back to slideshow