Yannick van de Velde, and Tom van Kalmthout, known as the comic duo Rundfunk, working on a comedic feature film. That make the actors Wednesday known on Instagram.
The comedy, which has the working title Wachterjachter has gotten, is play on a campsite. Van Kalmthout and Van de Velde playing the leading roles themselves. The pictures go in the summer to start.
On the website of the netherlands film fund is to read the story of the movie is about a young boss, is that a worn out ex-world star as a guest. When the flight turns out to be for criminals, the two do everything at the campsite to save. As with the popular Rundfunk-series is the screenplay of the movie written by Van Kalmthout and Van de Velde, with Rob Lücker as a director.
110
Rundfunk – Insufficient
Van de Velde and Van Kalmthout in 2015 popular because of their absurdist sketchshow Rundfunk, part of 3Lab. The series, centering on a high school and the supporting roles of, among others, Pierre Bokma and Kees Hulst, received, in 2016, a second and final season.
In season 2017-2018 followed the theatre show Wachtstumsschmerzen, which the duo the cabaretprijs Holland's Hope. The jury praised the programme of the two as "a breath of fresh air, with cabaret that the boundaries luxuries and there are pleasant far over". In October start the try-outs for their second theatre performance.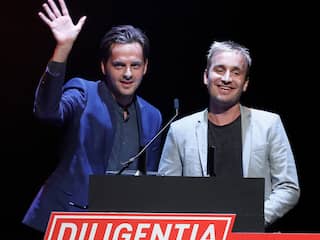 See also:
Rundfunk comes with a new theatre program