close

Video
Report: ABC considering 'Roseanne' reboot without Roseanne
How feasable is a 'Roseanne' spin-off that doesn't have Roseanne? Michael Tammero shares insight.
The negotiations for a "Roseanne" spin-off are moving forward and creating a number of "important progress", but there are still obstacles the creators have to get past, a report said Tuesday.
A source told the People the potential spin-off would revolve around Darlene, the character played by Sara Gilbert, to fill the gap left by Roseanne Barr, whose racist tweet about the former President Obama aide Valerie Jarrett led to ABC cancelling the series' reboot in May.
But there is still work to be done for the spin-off to become a reality, including "issues to hash out," the source said.
The "Roseanne" spin-off will focus on Darlene, played by Sara Gilbert.
(© 2017 American Broadcasting Companies, Inc. All rights reserved. )
"The key is how a show can be done where Roseanne neither part nor profit," the source said. "As of now, they agreed, at least in theory, to refrain from any creative or financial involvement in the spin-off to help save the cast and crew of jobs."
'ROSEANNE' STAR SARA GILBERT TEARS WHILE DISCUSSING THE CANCELLATION: "I AM SAD TO SEE THE END OF THIS ROAD'
The Hollywood Reporter said last week that ABC and producers Carsey-Werner doesn't want a part if Barr is involved in the spin-off.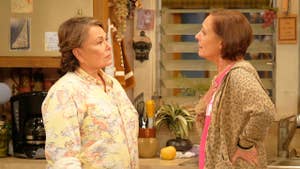 Video
Report: ABC considering 'Roseanne' reboot without Roseanne
The negotiation phase for the spin-off will now focus on the question of whether Barr will receive a payment or "go-away money", says The Hollywood Reporter.
TMZ reported earlier this month that a possible reboot of the series without Barr was in the discussions. The outlet reported that Gilbert had contact with her "Roseanne" castmates to gauge how many were interested in a possible restart, and that John Goodman is "very interested."
Goodman plays Roseanne's husband and Gilbert's father on the comedy.
Katherine Lam is a breaking and trending news digital producer for Fox News. Follow her on Twitter via @bykatherinelam