close

Video
Roseanne Barr opens up about Valerie Jarrett tweet backlash
Roseanne Barr sits down for an interview on 'Hannity' after being fired from the 'Roseanne' reboot.
Roseanne Barr, the engaged tv star, whose eponymous show was cancelled after she tweeted racist feelings about a former Obama administration official, said Thursday night that they are not racist.
Speaking in her first national television interview since the scandal, Barr told Fox News' Sean Hannity that she is "so sad that people think" its tweets about Valerie Jarrett were "racist."
VALERIE JARRETT DISMISSED ROSEANNE BARR TWEETS: 'ROSEANNE WHO?'
"I've apologized a lot, it's been two months," Barr said. "I feel like I apologized and explained and asked for forgiveness and made the retribution, which is a part of my religion."
Barr made headlines after she tweeted in May of that Jarrett, who is African-American and was born in Iran, was like the "muslim brotherhood & the planet of the apes had a baby."
Roseanne Barr talks with Fox News talk show host Sean Hannity while being interviewed during a taping of his show Thursday, July 26, 2018, in New York.
(AP Photo/Julie Jacobson)
The television star followed with an apology to Jarrett and "all Americans … to make a bad joke about her politics and her appearance."
ABC cancelled the namesake show hours later, ABC Entertainment President Channing Dungey, referring to Barr's comments as "horrible, repulsive and incompatible with our values."
ABC CANCELS 'ROSEANNE' AFTER BARR RACIST TWEET
Barr on Thursday night, said that she "made a mistake. It took me in my work."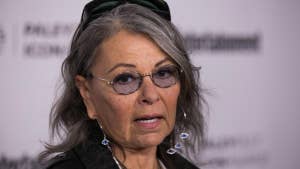 Video
Roseanne Barr retweets adverse Valerie Jarrett comment
"I was so sad, and I am so sad that anyone thinks that of me," Barr said Hannity. "I never meant to hurt anybody, or say anything negative about a whole race of people."
Barr also addressed Jarrett directly and apologized for the tweets, which advocates for a broader dialogue on race relations. "We need to talk about race and everything connected with it," she said.
She also claimed that her contract with ABC protected her from any mistakes they may make. Barr claimed she was allowed 24 hours to correct a mistake, adding they wanted to make media appearances to explain her tweets, but that the network does not allows her to do.
Barr said that even though she is already able to be legally contested the fire, she felt like leaving the show was part of her "wages," and that she signed off on her employees to participate in ABC's spin-off, "Conners."
In the extensive interview, Barr also told Hannity that her infamous 1990 performance of The Star-Spangled Banner, in which she shrieked the song, grabbed her crotch and spit on the ground, was a mistake.
"Well, that's what the stupid pitcher told me to do," she said. "Never take comedy from a jug."
Nicole Darrah cover breaking and trending news for FoxNews.com. Follow her on Twitter @nicoledarrah.