close

Video
Eagles of Death Metal singer lashes out at a Park students
The lead singer of the Eagles of Death Metal, the band that was performed during the 2015 Paris attack, lashed out at the March for Our Lives the participants. Jesse Hughes called the organizers a "vile abusers of the death."
The lead singer of the Eagles of Death Metal—band which was performed during the 2015 Paris nightclub attack took to social media Sunday to criticize the March for Our Lives, the participants and the so-called student organizers a "vile abusers of the death."
Jesse Hughes, 45– the singer who once said, "until no one has a gun everyone has"– posted the rant on Instagram.
"It is clear … The best thing to do for the control of chronic addicts and disregarders of the law (like the law against Murder) is … pass another Law," Hughes wrote in a series of Instagram posts that have since been removed, Rolling Stone reported. "But before we pass this act, we denigrate the memory and curse ourselves by exploiting the death of 16 of our co-students for a number of Facebook likes and some media attention."
Hughes referenced the 2015 attack in Paris, that his band concert in the Bataclan concert hall and the Islamic extremists' opened fire on the crowd that left 90 dead, for "how well civil rights violations when it comes to firearms helped to protect" in the tragic massacre.
"As the survivor of a mass shooting I can tell you from first hand experience that all of you protesting and taking days off from the school to insult the memory of those who were killed and abuse and insult me and every other lover of freedom, by your every action," Hughes wrote.
The musician went on to criticize the students of marjory Stoneman Douglas High School – behind the rally, where a gunman killed 17 students and faculty members on Feb. 14 — for the "play hooky at the expense of 16 of your classmates' blood', and adds that, "it would be funny if not so pathetic and disgusting."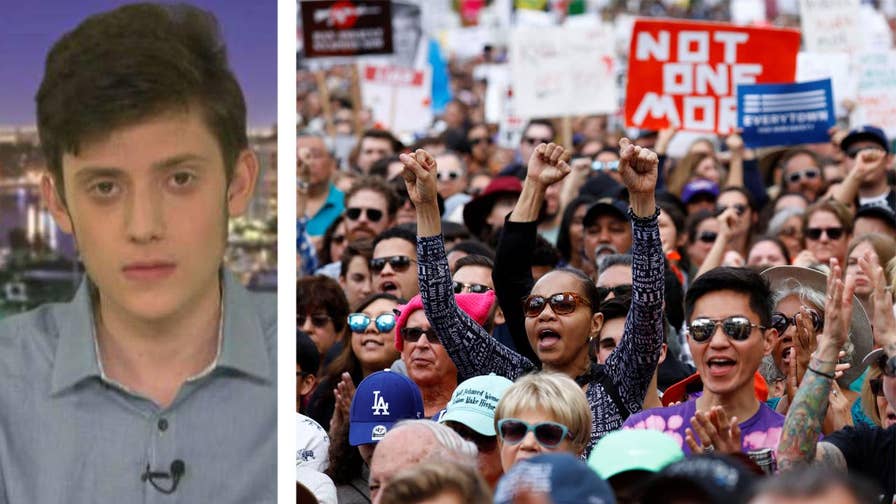 Eagles of Death Metal not immediately respond to Fox News' request for comment.
Sunday's Protest brought the need for stricter gun regulations in response to the previous month to shoot. Since the bloodshed in Florida, students have tapped into a stream of gun control sentiment that has been building for years — yet still confronted with a powerful enemy in the NRA, the millions of supporters and lawmakers who opposes any infringement on gun rights.
"Long Live Rock' n ' Roll … and everyone of these disgusting disgusting abusers of the dead live as long as possible, so they can have the maximum amount of time to persist in their shame … and Cursed …," Hughes concluded his Instagram rant.
Hughes not apologize for his rant, but it is recognised in another post that he would create a second Instagram not mix his political beliefs, with music, Rolling Stone reported.
Benjamin Brown is a reporter from Fox News. Follow him on Twitter @bdbrown473.