Riedewald finds it "difficult to believe" that Ajax trust in him
Photo: ProShots
Jairo Riedewald frustrated by the situation where he is at Ajax. The defender gets no playing time in the first team, but should the club not to leave.
The 20-year-old triple international played Monday throughout the match with Jong Ajax against Almere City (6-3), but dropped after know not at all happy with the second team.
"They say that they trust in me, but that is hard to believe. Of course you want to just play, and when they say: also, you may not way, and that is frustrating," said Riedewald at FOX Sports.
"I am a young boy. I want as much as possible to play matches and develop myself and become a better player. That doesn't happen if I'm sitting on the bench."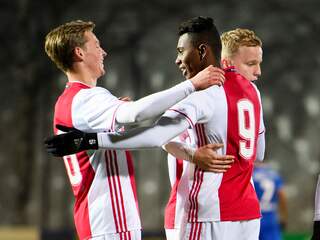 See also:
Ajax in doelpuntrijk duel along Almere City
Bazoer
RIedewald was the transfer in interest of several clubs, but in contrast to Riechedly Bazoer, who to VfL Wolfsburg moved, and Anwar El Ghazi, who as well as Lille moves, he may not leave.
"Ajax has no say, and said them with me for the championship to go and I need the remaining matches. At this moment I play still does not. I'm not happy about it."
Still it says Riedewald also fun to pick out his races on The Future, where Ajax is normally the home games to play. "Of course, you learn here also, but I prefer to be on the highest level play. But I would be crazy if I was happy with it in Ajax. The first team is the goal."
Tete
Riedewald says a lot to have Kenny Tete, who, like him, are starting in the first team is lost. Trainer Peter Bosz returns to Nick Viergever preferred Riedewald, while Tete as a right back Joel Veltman for themselves must suffer in the pecking order.
"We say to each other that we feel strongly should remain. Hopefully we can soon get together again shine in the Amsterdam Arena."
View the results, the mode, and the program in the Jupiler League