A rescue operation at Bear Reservoir led to the discovery of the skeletal remains, a forensic autopsy identified as the missing woman Carol Brown.
(Mariposa County Sheriff's Office)
Human bones found near a Central California reservoir are those of an elderly woman who went missing during the massive floods, three months ago, authorities confirmed Thursday.
Dental records confirmed that the remains are those of Carol Brown, 72, of Catheys Valley, about three hours drive southeast of San Francisco, the Mariposa County Sheriff's Office reported.
Brown had left her home in the rural area March 22 to check on some horses during heavy rain and flooding.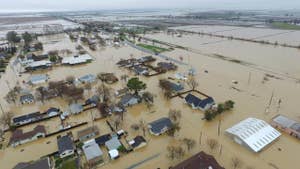 Video
Flooding, landslides force evacuations in California
More than 70 people were constantly looking at her, the officials said. Rescue workers found her remains last weekend, the Fresno Bee reported. Cadaver dogs helped the crews find the remains in the vicinity of the Bear Reservoir, approximately 9 miles downstream from where she disappeared.
Her new car was later found on its side in a small creek, the rain had become a fast-moving river of up to 10 metres deep.
"This is a tragic event, we are grateful that we were able to find her and help her family find closure," the Mariposa County Sheriff's Office said in a press release.
CALIFORNIA MUDSLIDES DEATH TOLL RISES AFTER WOMAN'S BODY IS FOUND
Meanwhile, John Honesto, a second person who went missing during the flood, not found, the Bee reported.
Honesto's car was found destroyed in a creek near a local highway, the Tuolumne County Sheriff's Office said.
The Associated Press contributed to this report.
Amy's Place is a news editor and reporter for Fox News.