Dakar Rally
Rallylegende Loeb wins second stage of Dakar, Price fastest engine
Photo: EPA
Sebastien Loeb has Tuesday the second stage of the Dakar Rally and won in the cars. When the engines went to the dagwinst to Toby Price.
Frenchman Loeb remained in his Peuegeot Nasser Al-Attiyah from Qatar (Toyota), the winner of the first stage. The difference was one minute and 23 seconds.
Carlos Sainz senior, the father of Toro Rosso driver Carlos Sainz junior, was third. The Spanish team mate of Loeb gave 2.18 minutes.
Erik van Loon drove his Toyota to a toptienklassering. With co-driver Wouter Rosegaar he came nine minutes and nine seconds after Loeb over the finish line.
Also in the general classification is Loeb is now the number one. He has a lead of 28 seconds to Al-Attiyah and almost two minutes to Sainz. Van Loon is on ninth, on more than negenenhalve minute behind.
???? CARS ???? – GENERAL CLASSIFICATION (STAGE 2) ????
1- ???? @SebastienLoeb ????????
2- @AlAttiyahN ???????? (+0'28")
3- @CSainz_oficial… https://t.co/W1TcNY6WyJ
Avatar


Author
dakar
Time of placing
17:58 – 03 January 2017
Engines
The Australian Price, last year's overall winner, was the fastest in engines. Last year knew Price winning the Dakar Rally.
The Austrian Matthias Walkner finished second, three minutes and 22 seconds behind and the Portuguese Paulo Goncalves (3.51) third.
Robert van Pelt was the best Dutchman on the 47th place. He gave 31.57 minutes on Price. Jurgen van den Goorbergh was behind it. He was 52nd at 32.38 minutes.
The trucks are still on the road.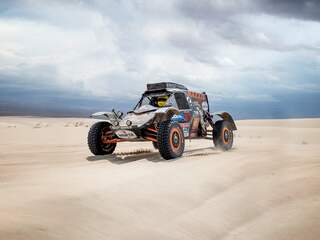 See also:
All about Dakar 2017: Within a few days of 40 degrees to the snow