close

Video
Cop accused of the killing of Laquan McDonald: I'm not racist
Chicago police officer Jason Van Dijk speaks out before going on trial on charges of first-degree murder in the shooting death of the 17-year-old Laquan McDonald.
Prosecutors on Thursday rested their case in the first-degree murder trial of Jason Van Dyke, a white Chicago police officer accused of fatally shooting Laquan McDonald, a black teenager, 16 times.
McDonald's death roiled Chicago, led to enthusiastic demonstrations and exposed deep resentment and distrust between the officers and the people they are sworn to protect.
Tina Hunter, center, wipes her eyes she looks into the gallery during the Chicago Police Officer Jason Van Dijk of the trial for the shooting death of her son, Laquan McDonald, at the Leighton criminal court Building on Thursday, Sept. 20, 2018.
(Antonio Perez/ Chicago Tribune via AP, Pool)
Special prosecutor Joseph McMahon named 2014 killing "totally not necessary" and argued that race was a factor.
Prosecutors say that on the night of McDonald was shot to death, the only what the defendant saw was a black boy on the street" who had the audacity to ignore the police."
OPENING ARGUMENTS BEGIN IN THE MURDER TRIAL OF A WHITE CHICAGO COP WHO SHOT BLACK TEEN
Van Dijk is charged with first-degree murder, 16 counts of aggravated battery and one count of official misconduct in the McDonald's death. He was suspended without pay and have pleaded not guilty to murder.
His lawyers have painted McDonald as a troubled teenager who refused to accept the three-inch retractable blade that he had been wearing the night he was killed.
Lawyer Daniel Herbert described McDonald as a "out-of-control person who does not care about anyone," and argued that Van Dijk was "scared policeman who was afraid of his life and the lives of others."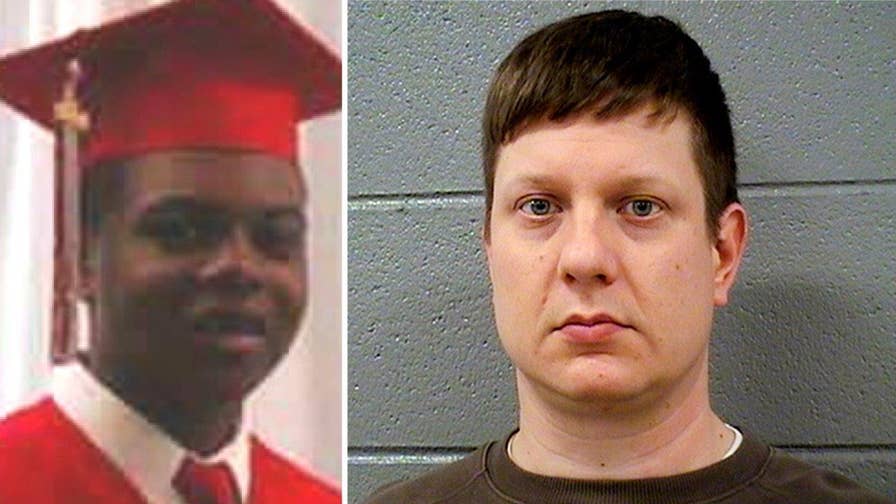 Van Dijk claimed he shot McDonald 16 times when the teen waved a knife at him. Grainy dashcam video released 13 months later, after an order of the court — showed McDonald holding a knife to the side of his body, about 15 metres away from van Dijk and walking away from him and other officers who had responded to a report that the youth was trying to break into vehicles.
Chicago Police Officer Jason Van Dijk's lead lawyer, Daniel Herbert gestures with Laquan McDonald's knife during the fourth day of van Dijk's first-degree murder trial for the shooting death of McDonald at the Leighton criminal court Building on Thursday, Sept. 20, 2018 in Chicago.
(Antonio Perez/ Chicago Tribune via AP, Pool)
McDonald fell on the sidewalk in less than two seconds after he was shot. Van Dijk continued to shoot for another 12 seconds, emptying his 16-shot semi-automatic pistol.
Eury Patrick, the persecution of the expert in the deadly use of force by the police, testified Thursday that Van Dijk continued to shoot "long past the point that is reasonable."
"They are not trained to empty their gun," says Patrick. "It is not a knee-jerk reaction. They are trained to shoot until the risk is terminated."
Witness Jose Torres told jurors he heard more gunshots after McDonald fell than before.
"I'm not going to get the use of the word, but I said, 'Why the "f" are they still shooting him when he's on the ground?'"
CHICAGO JUDGE SLAPS A WHITE COP ON TRIAL FOR LAQUAN MCDONALD MURDER WITH $2G FINE FOR VIOLATING GAG ORDER
In the course of the week, the prosecutor showed the jury of eight women and four men — the dashcam video of more than a half a dozen times. They also showed the jury each gunshot wound on McDonald's body.
On Wednesday, the Cook County Medical Examiner Dr. Ponni Arunkumar for two hours on the stand, in which the multiple bullet holes on McDonald's back, chest, leg, arm and hand. She also pointed to where the bullets had burned the McDonald's skin, shattered his bones and ripped through his lungs. She testified she picked bullet fragments out of his teeth and mouth.
The Rev. Jesse Jackson appeared at the Chicago courthouse on Wednesday afternoon. He watched hours of testimony and told reporters that the McDonald case was "one of the most heinous crimes since Emmitt Till."
Till, who was born in Chicago in 1941, was brutally beaten and killed in a racially motivated attack in Mississippi when he was 14. He was kidnapped, beaten and shot in the head. The murderers, who later confessed to the crime, were acquitted.
Van Dijk is partner and two other officers face trials this fall on conspiracy and obstruction of justice charges. The plaintiffs claim that they lied to protect Dike, the submission of the reports that echo his statement characterize of McDonald as a threat.