to connectVideoFox News Flash, important news for the month of November. 21
Fox News Flash, important news for the month of November. 21 to be here. Check out what to click on Foxnews.com
Scientists have found fossil evidence that snakes had limbs, as well as the cheek bones, around 100 million years ago.
The researchers looked at a "remarkably preserved" fossil of a snake, which is also known as Najash rionegrina, was discovered in Argentina. N. rionegrina was named after the Biblical snake, Nahash, who tempted Adam and Eve in the Garden of Eden with the forbidden fruit.
"Our findings support the idea that the ancestors of modern snakes had to be big-bodied and big-mouthed in the place of the small, burrowing form, as was previously thought," said the study's lead author, Fernando Garberoglio, in a statement. "Our research shows that the early snakes, to keep their hind legs for an extended period of time prior to the origin of the modern snakes, that have been, for the most part, it is completely limbless."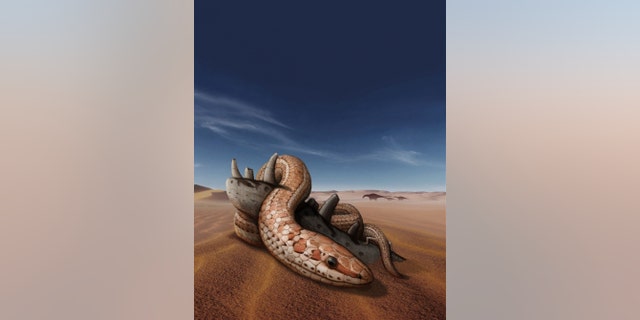 An old, snake, dinosaur sheds light on evolution of the modern snake skull. (Credit: RAÚL ORENCIO GÓMEZ)
A FOSSIL-HUNTER TO FIND 1185M-YEAR-OLD "GOLDEN SNITCH" WITH THE OLD SEA-CREATURE, IN THE
Michael Caldwell, one of the study's co-authors, who added that the researchers have not been able to get all the important information about the early evolution of snakes, as a result of a lack of fossil evidence.
"This research will be a revolution in our understanding of the jugal bone of the snake and not the snake, the lizards," Caldwell, a professor at the University of Alberta, has been added. "After more than 160 years ago, it is wrong, and this paper is correct, this is very important feature, it is not based on any evidence but on empirical evidence."
The researchers performed computed tomography (CT) scans to visualize the skull and the structures within the substance, in search of the nerves and blood vessels, as well as the whole skeletal system.
"This research is of vital importance for the understanding of the evolution of the skulls of modern and ancient snakes," said Caldwell.
120M-YEAR-OLD BIRD, WHO LIVED IN THE ERA OF THE DINOSAURS, HAS BEEN DISCOVERED IN JAPAN, AND
The study, which was published in the journal of the Scientific Progress.
CLICK HERE TO VIEW THE FOX NEWS APP