Political fight in Curacao over written elections
On Curaçao is a political struggle waged over the question of whether the election of 28 april, or does not have to go on. Thursday should be caretaker prime minister Hensley Koeiman across a majority of seats in parliament to justify his decision to have elections, to write.
The Curaçao government-Koeiman fell on 12 February. The prime minister asked it directly to the dissolution of parliament and new elections.
These are proclaimed by the governor and are now scheduled on 28 april. But a majority in the parliament, under the leadership of former prime minister Gerrit Schotte, is the do not agree.
The opposition can't find it democratic that the government, which after a period of seven weeks, her majority is lost, a new election has claimed. Especially since the last election on 5 October last year.
The new block of twelve parliamentarians (out of a total of 21) therefore asked for the appointment of a formateur for an (interim-)government. Ex-minister Ruthmilda Larmonie-Cecilia was Wednesday, by the governor appointed in that role for an interim government to be formed. According to the opposition is the first step to eventually not let go of the elections.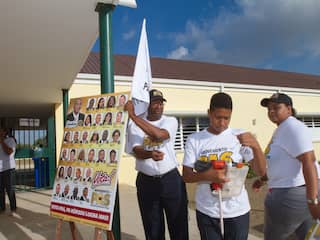 See also:
New elections in Curaçao on april 28