to connectVideoThe craziest things confiscated by the TSA
A human skull, a live eel, and mine, are just a few of the awesome list of items confiscated by the TSA. Take a look around to find out what made the list.
Holy high-flying batknives, Batman!
As a passenger, travelling by New York city's LaGuardia Airport this week, and was caught by a double knife, which, when fully extended, measured at about 11 cm. The gun was designed to look like a flying bat in the sky.
THE ANTS MARCH OUT OF THE TRANSFER (ON THE BASIS OF A UNITED AIRLINES FLIGHT TO NEWARK, NEW JERSEY
In a tweet from the TSA Public Affairs spokesperson Lisa Farbstein, the passenger, was stopped by the TSA at the checkpoint at the airport.
CHECK OUT THE VIDEO OF THE GARLIC IS TO PEEL A SECRET ADVENTURE IN THE INTERNET
On Fox News, Farbstein is shared, the customer was given a choice – just like all of the passengers have been caught with some banned items – either back to their car when it is at the airport, it is handed over to a non-traveling companion is, to put it in a checked bag or surrender it to the TSA. The person with the bat, the knife and surrendered it to the TSA.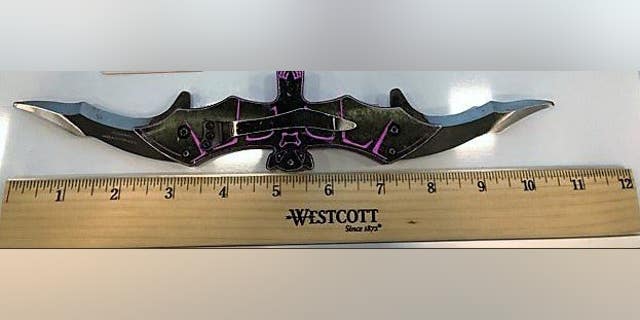 When it is fully extended, and the bat blade as measured about 11 cm in size. The gun was designed to look like a flying bat in the sky.
(Lisa Farbstein, Twitter)
PLEASE FOLLOW US ON FACEBOOK FOR FOX, LIFESTYLE, NEWS
Although it is not exactly a batarang (Batman's weapon is more like throwing a to an a star) of the double-blade bat knife-not allowed in carry-on luggage. As well as this other weird items confiscated by the TSA.