The players of the Dutch national team Friday night in Zeist, the netherlands dealt with the attack last Monday in Utrecht. Prior to the training, they held a one minute silence in memory of the victims of the shooting.
Several players from Orange shared Friday on Twitter a photo showing the entire selection of arm-in-arm. "All we run tonight, 10 miles away, we are still in the terrible event of Monday", reads the text in the tweet.
Thus, reference is made to the silent march in Utrecht, on Friday shortly after the training of Amber began.
In the shooting in a tram in the Utrecht neighborhood Kanaleneiland came Monday, three people are killed and attacked several wounded. One of the victims was as a football coach, a member of the KNVB.
70
Silent tour of Utrecht ends in loud singing
'For commemorations around duels of Orange, there exists a protocol'
Thursday came the KNVB with a declaration in which the association explained why they there that night, not a minute of silence was held prior to the european CHAMPIONSHIP qualifier between the Netherlands and belarus (4-0 victory).
"For commemorations around matches of Orange is a protocol. The directive indicates that there is commemorated in official international matches if the government is a national day of mourning has been declared (something which is now not happened) or if it's an icon from the world of football", was the statement of the KNVB.
The players of Oranje are preparing for the european CHAMPIONSHIP qualifier against Germany. That duel begins Sunday at 20.45 hours in the Johan Cruijff ArenA.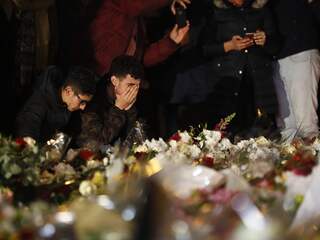 See also:
Thousands of people commemorate the victims of the attack Utrecht