American football
Photo: Super Bowl winner New England Patriots to be honored in Boston
Photo: Getty Images
Super Bowl winner New England Patriots on Tuesday by hundreds of thousands of fans celebrated in the centre of Boston.
The team from Foxborough was in the night from Sunday to Monday in a thrilling NFL-finals after extra-time with a 34-28 too strong for the Atlanta Falcons.
Hundreds of thousands of fans stood in rows along the route for the parade through the snowy streets of Boston, where extra attention was for Tom Brady. The 39-year-old quarterback was the record of Charles Haley, to Sunday, the only player with five Super Bowls.
NFL boss Roger Goodell, at the beginning of the season responsible for a suspension of Brady, was the target of derision when the Patriots fans.
New England Patriots to be honored in Boston
Super Bowl winner New England Patriots on Tuesday, honoured in the centre of Boston.
© Getty Images
The team from Foxborough was in the night from Sunday to Monday after an exciting NFL finale with 34-28 too strong for the Atlanta Falcons.
© Getty Images
Hundreds of thousands of fans stood in rows along the route for the parade.
© ANP
There was a lot of extra attention to Tom Brady, the Greatest of All Time', in the snowy streets of Boston.
© ANP
The 39-year-old quarterback was the record of Charles Haley, to Sunday, the only player in the final of the NFL five times won.
© Getty Images
Rob Gronkowski celebrates exuberantly.
© ANP
It was the fifth Super Bowl victory in the history of the Patriots.
© ANP
NFL boss Roger Goodell, at the beginning of the season responsible for a suspension of Brady, was the butt of ridicule of the Patriots-fans.
© ANP
Share this photo via:
Back to slideshow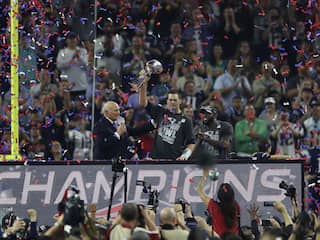 See also:
New England Patriots wins Super Bowl in renewal