PSV Monday, with the metropolitan region Brainport Eindhoven, a new shirtsponsor presented. A group of companies, including Philips, will from next season as the main sponsor to act.
In addition to electronics company Philips also include supermarket chain Jumbo, chipmachinefabrikant ASML, metaalconcern VDL Group and the High Tech Campus to the new lenders, who are united in the metropolitan region of Brainport Eindhoven.
The consortium of companies "the partnership for a long time," reported metropolitan area and Brainport Eindhoven without having to say how long the contract runs. "There is not a cent of public funding involved with this cooperation," stressed the companies during a press conference in the Philips Stadium.
The current leader in Premier league play since the season 2016/2017 with Energiedirect.nl on the shirt. The company that PSV-founder, Philips succeeded, made last week to quit as main sponsor and to continue as a rugsponsor.
The directors of the companies with players, staff and management of PSV on the pitch of the Philips Stadium. (Photo: PSV)
Gerbrands speaks of worldwide premiere
"I am enormously proud that this is successful", said general director Toon Gerbrands about the cooperation with the bedrijvenconsortium. "This agreement is a world's first in the sport."
"We are creating a new ecosystem and the way which is characteristic of the interconnectedness and cooperation in this region," said Gerbrands.
Energiedirect.nl paid 6.5 million euros per year as the title sponsor, reportedly is the contribution of Brainport Eindhoven is significantly higher. "We're not going into financial details, but the commercial income will increase substantially," said commercial director Frans Janssen of PSV.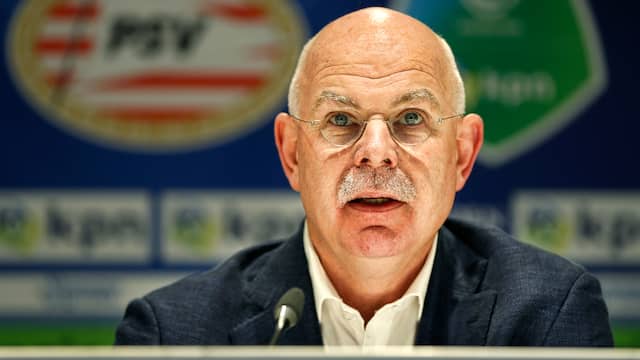 General director Toon Gerbrands of PSV. (Photo: Pro Shots)