Vice-President Mike Pence and his wife, Karen, joined Diana brown Sanfilippo (second from left), her husband, Robert (left), and Rick Downes (center).
(Twitter/Vice President Pence)
Vice-President Mike Pence, spoke at a ceremony on Wednesday to mark the arrival of the mortal remains of U.S. soldiers from the Korean war — and in connection with him two guests who have lost their fathers in the war.
Pence took to Twitter on Wednesday to share that he and his wife, Karen, would attend the ceremony, in Honolulu with Diana brown Sanfilippo and Rick Downes.
The Vice-President said that, when Sanfilippo was 4 years old, she lost her father in the Korean war, during a reconnaissance mission, and that, when Downes was 3 years old he lost his father in operating the radar on a B-26 bomber.
in the vicinity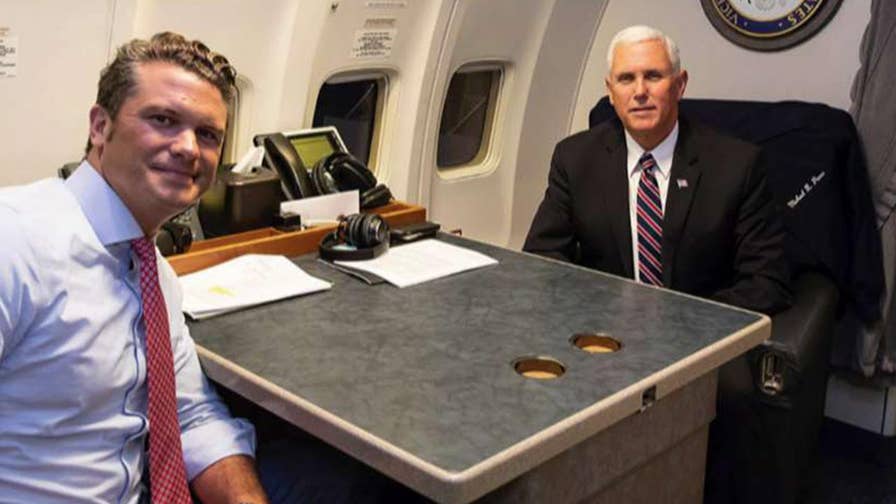 Video
Pete Hegseth on the guest Pence to Hawaii ceremony brought
Vice-President Mike Pence was joined, welcome by special guests, which explains the apparent remains of US soldiers from North Korea; Pete Hegseth.
Pence, later wrote that he was "humbled & honored" to be a part of the repatriation ceremony.
North Korea handed over the remains of what is said to U.S. officials, are believed to be the remains of U. S soldiers who fought during the Korean war. A US military aircraft has a rare journey into North Korea to retrieve the 55 cases.
Fox News' Pete Hegseth, who was traveling with Pence in the Air Force Two, recalled the moving stories of the heroes of the now grown-up children.
When we arrived, the trip to @JointBasePHH, Karen & I feel honoured, Diana brown Sanfilippo & her husband Robert. Diana lost her father in the Korean war, during a reconnaissance mission. We are also honored that Rick Downes, whose father was lost during the operation of the radar on a B-26 bomber. pic.twitter.com/R1LDX28mch
— Vice-President Mike Pence (@VP) August 1, 2018
"We picked probably the two most important passengers, the plane: a man and a woman, who were 4 and 3 years old — little girl and little boy in the 1950s — when they sent their fathers, the young men, both pilots, in the case of the first two lieutenants both fighting went on in the Korean war," he said on "Fox & Friends".
"She devoted her life to for the last 60 years, to find out what happened to their fathers, what would happen if the patriot, the warrior, went to fight for us, for every generation of Americans," Hegseth continued.
The returned remains, as a great achievement of the Trump historic summit in Singapore with North Korean dictator Kim Jong-Un last month.
Paulina Dedaj is a writer/ reporter for Fox News. You can follow her on Twitter @PaulinaDedaj.