Parliament of Curaçao is opposed to early elections
A majority in the parliament of Curaçao is opposed to early elections. That turned out to be Tuesday (local time), during a meeting where 11 of the 21 representatives on the island at present.
The cabinet-Koeiman fell last Sunday after seven weeks. It was also the parliament dissolved and were elections for 28 april. The decision to do so is now signed by the governor of Curaçao.
Pueblo Soberano, the party of the in 2013 murdered politician Helmin Wiels, is this weekend from the government has stepped up and has joined the opposition. Which now has a majority in parliament and want to self govern.
The parties are therefore on a collision course with the outgoing government. During the meeting on Tuesday said opposition parties were relying on in six of the eight ministers. There was also a vote of no confidence tabled against the president.
The cabinet-Koeiman suggested that the opposition parties 'illegal' meetings and the motions are no consequences.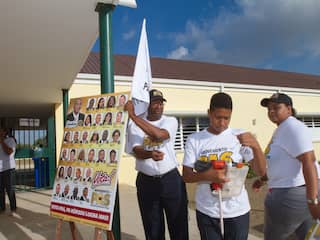 See also:
New elections in Curaçao on april 28