Two unarmed campus monitors are excluded from the marjory Stoneman Douglas campus and assigned after it was reported one of them saw Nikolas Cruz for his alleged massacre on Feb. 14.
Two campus monitors at marjory Stoneman Douglas High School are excluded from school property after the message was one of them alerted school staff that Nikolas Cruz was the act of defendant as he was in the campus on Feb. 14.
Andrew Medina and David Taylor, both sport coaches and unarmed campus monitors, "have received administrative reassignment … until further notice," a Broward County Public Schools spokesman told the Sun-Sentinel on Wednesday.
UNARMED PARK CAMPUS MONITOR ALERTED STAFF IF NIKOLAS CRUZ STORMED CAMPUS, DOCUMENTS REVEAL
Medina told Coral Springs police in the aftermath of the massacre that is located on the Florida high school campus on Valentine's day, that he saw Cruz shut down an Uber, and enter the campus carrying a black bag.
The unarmed campus monitor reportedly said that when he saw the mass shooting suspect, apparently, is "beelining" for the 1200 building — the location where the shooting, which killed 17 people, he warned other campus security guards.
Taylor, which Medina said was an unarmed security monitor he contacted about his suspicions about Cruz, hid in a broom closet when he heard the gunshots go off, according to the Sun-Sentinel.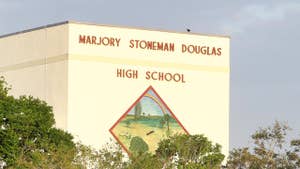 Video
Marjory Stoneman Douglas High School graduation
Andrew Pollack, whose daughter Meadow was killed in the shooting, told the newspaper he went to Stoneman Douglas after seeing Medina's comments in the recent news reports of the question are fire.
"I went there and took care of it. He doesn't work anymore," Pollock said, adding that Medina didn't call it a "Code Red" — who have indicated a threat inside the school — when he saw Cruz.
Medina allegedly told the police his training taught him only to call a "Code Red" if he saw someone with a gun or saw the shooting itself, and not the issue of the security warning.
Nicole Darrah cover breaking and trending news for FoxNews.com. Follow her on Twitter @nicoledarrah.