closeVideoFox News Flash top headlines for Feb. 24
Fox-News-Flash-top-headlines are here. Check out what you click on Foxnews.com.
Republican senators in Oregon, went from the State Capitol on Monday to prevent a vote on a law is design to stemming climate change, a similar action by GOP lawmakers last year, followed by threats to call the state police to forcibly return.
The work stoppage prompted to accuse democratic Gov. Kate Brown, the Republican legislators of "being against the Democratic process." Democrats hold a majority in both chambers of the state Legislative Assembly.
"If you do not have to show as a bill, then, and you can change it or show, and no vote. You should raise your voice, instead of government shutdown," she said at a press conference.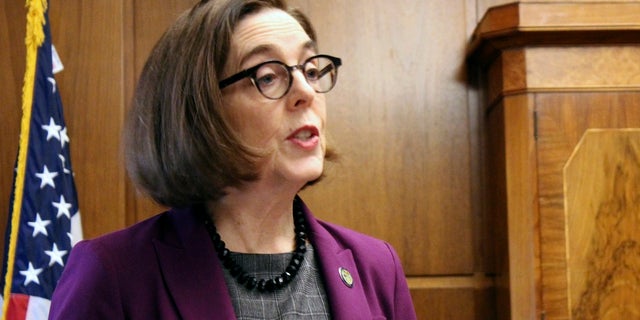 Gov., Kate Brown of Oregon is announcing a strike by the Republicans in the Senate that prevented a quorum on Monday in Salem, ore. Republican lawmakers are trying to doom a controversial climate change bill. Brown said, the Republicans are against climate policy, but against the Democratic process. (AP Photo/Andrew Selsky)
Big Trucks the support of the GOP legislators went to the state Capitol in Salem to honk the horn. The draft law, the reduction of greenhouse gas emissions, one of the main causes of climate change is.
He calls for the state to reduce emissions by at least 45 percent below 1990 emissions by 2035 and at least 80 percent by 2050.
The bill would have the power to get the major emitters of greenhouse gas emissions credits for each ton of carbon dioxide they emit. Opponents say fossil fuel companies in the wind-up-shift the increased costs to the customer. A proposal the Republicans put the matter before voters in November failed on Monday, before it to the Senate for a floor vote.
To choose "only you the right," Republican state Sen. Fred Girod said.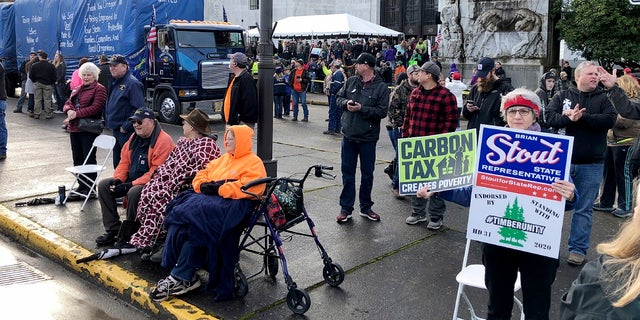 In this Feb. 6, 2020 file photo, demonstrators protest against a cap-and-trade bill aimed at stemming to protest for global warming, the Oregon State Capitol in Salem. Republican lawmakers on Monda, boycotted the Oregon Senate in an effort to deny Democrats a quorum, and doom is a controversial climate change bill. (AP Photo/Andrew Selsky)
CLICK HERE TO DOWNLOAD THE FOX NEWS APP
After the rejection, only 19 senators-all Democrats-remained on the floor, a shy, to go to the the minimum.
Monday, the strike was a repeat of last year, when the state GOP legislator refused to participate to the implementation of a cap-and-trade program. Senate President Peter Courtney said he would not have involved the authorities at this time.