In this file photo taken on Tuesday, July 24, 2018, provided by the Center for Whale Research, a baby orca was pushed by his mother after the birth of the Canadian coast near Victoria, British Columbia.
(David Ellifrit/Center for Whale Research via AP)
An endangered killer whale that captivated the world with its "round of sadness is back to the pod after more than two weeks clinging to a dead and rotting calf, researchers said Sunday.
The orca, known as J35, was spotted behind a school of salmon off the coast of Washington Saturday afternoon and her calf was nowhere to be seen.
According to tele shots, the J35 is in good health despite concerns it would not be able to hunt, while the execution of the carcass, the Alaska Highway News reported.
The Center for Whale Research in Washington state said the whales are struggling as a result of the lack of salmon, and J35 the calf died after birth on July 24.
MOURNING ORCA STILL DEAD CALF FOR MORE THAN TWO WEEKS LATER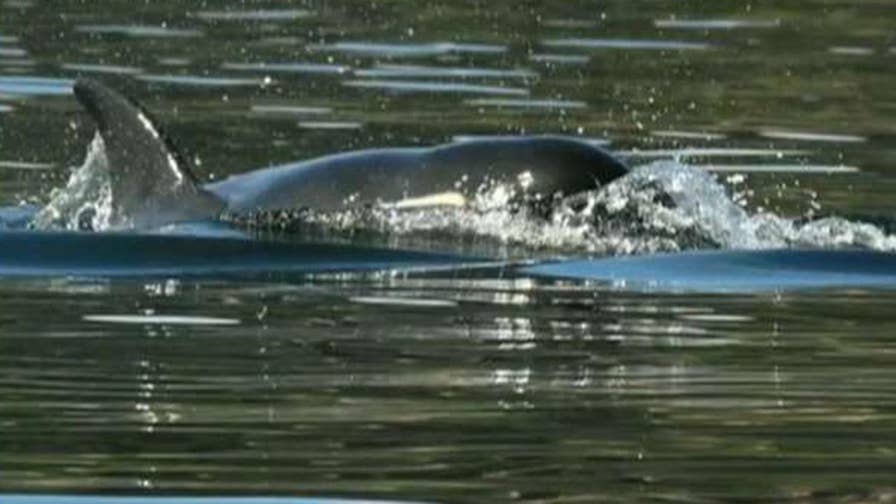 Ken Balcomb, the founder of the Center for Whale Research, told Q13 Fox that J35 the actions were a "tour of grief" and "unprecedented."
An audio recording earlier this month apparently featured the mother "a sad and prominent" calls, Q13 Fox reported. Images of the mother clinging to the dead calf have struck an emotional chord around the world.
Balcomb said he was enormously relieved to see J35 back to normal behavior.
Researchers said J35 pulled the calf for nearly 1,000 km over a period of 17 days.
Fox News' Travis Fedschun, and The Associated Press contributed to this report.