Oranjevrouwen out sentences after 'fantastic' ceremony in Utrecht
The Oranjevrouwen knew Monday night is not what they experienced when they were in Utrecht for the eye of thousands of fans were honoured for their European title.
The team of coach Sarina Wiegman defeated Sunday of Denmark in the european CHAMPIONSHIP final in Enschede 4-2 and Monday was by an estimated twelve thousand supporters met in Park Lepelenburg after a cruise.
"I have a little bit of time is needed in order to stand still. We had a party expected, but this was not normal cool", sought midfielder Jackie Groenen against NUsport for words.
Lieke Martens, who after the final game against Denmark was named the best player of the tournament, had struggled to choose what time in the past few weeks, are the most beautiful.
"The ceremony is very special and the final whistle was also great. I can so many times say that I no longer go forgotten. I am very proud of the team."
Oranjevrouwen honored in Utrecht
The Oranjevrouwen were in a grand manner welcomed in Utrecht.
© ANP
The players enjoyed visible from all the attention.
© ANP
The boat ride led to Park Lepelenburg.
© ANP
Sunday was Denmark in the final with 4-2 records.
© ANP
In the park were twelve thousand fans.
© ANP
A frantic Daniëlle van de Donk.
© ANP
The ceremony lasted until about 20.30 hours.
© ANP
Share this photo via:
Back to slideshow
Awareness
At goalkeeper Sari van Veenendaal, in Utrecht, only to realise what they are with the Oranjevrouwen separated by the historic European title.
"This was really fantastic. Today, we see and feel really how much support we get from the Netherlands. I had not dare to dream of. We have real people to each other and should be proud of this team."
Also captain Sherida Pointed enjoyed all the attention. "This is really special and very beautiful. If you look how many people there were along the water and here on the square… Really amazing."
With the European championship, broke the Netherlands, the hegemony of Germany, that, in the previous six EK-editions becoming the best. This year, for the first time, sixteen countries will participate in the tournament.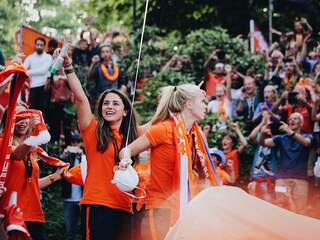 See also:
Oranjevrouwen festively celebrated in Utrecht