Opposition South Africa calls for new elections
Photo: AFP
The South African opposition party Democratic Alliance (DA) has on Wednesday been called on the parliament to dissolve and new elections. The party suffered a day earlier defeat, when a motion of censure against president Jacob Zuma, was rejected.
DA leader Mmusi Maimane acknowledged that the ruling party ANC the vote "won", but claimed that the party of Zuma and the confidence of the people is lost. He finds that the voter now to the word is. Maimane announced on Thursday, with a motion that should lead to early elections.
The opposition is demanding for months that president Zuma is departing. Critics outside and within his party, ANC accuse the president of mismanagement. He is accused of corruption and the dismissal of popular political figures such as Finance minister Pravin Gordhan. The anonymous vote of Tuesday for the departure of Zuma, but his followers attacked Zuma not.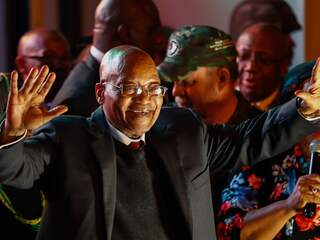 See also:
South African president Zuma survives vote of no confidence
Little chance
The question is how promising the plan of the opposition is now. The ANC has 249 seats in the 400 seats room parliament in Cape town. Zuma stated after the vote Tuesday that claims that he has the support of the people is lost, tantamount to propaganda. "It is their own imagination", said the triumphant president outside the parliament building against jubilant supporters.
A spokesperson of the ANC, described the plan of the opposition Wednesday as "a dream and hallucinations". The ruling party stated later in a declaration the motion to vote against. The plan of the DA proves, according to the ANC that the motion of censure against Zuma had nothing to do with the president, but an attempt was made to the government through the parliament to overthrow.
RETWEET if you agree that if the ANC refuses to remove a corrupt man, the people of SA must be given the chance thr… https://t.co/dxNdbmyIQI
Avatar


Author
Our_DA
Time of placing
11:28 – August 09, 2017