Oldest man in the world (113) died in Israel
The oldest man in the world, Yisrael Kristal, who survived the Holocaust, is Friday at the 113-year-old age and died in Haifa.
The newspaper Haaretz called in a reminder that he only last year his bar mitswah' fourth, the ceremony and ratification of the religious majority. That was a century later than usual for a Jewish boy. He missed that celebration, at the time of the First world War.
Crystal was on september 15, 1903 born in the Polish town of Zarnow. In 1920 he moved to Lodz, where he later became a candy factory would open, and a family would be found.
After the German invasion he was with his wife and two children to the ghetto of Lodz sent. Followed Later by deportation to the Auschwitz concentration camp. His wife and children were killed by the Holocaust.
Crystal re-married in 1947 and immigrated three years later to Israel. He spoke almost never about the Second world War. "With what happened on one day it happened in Auschwitz, you would have two books can fill," he said a few years ago in a rare interview with Haaretz.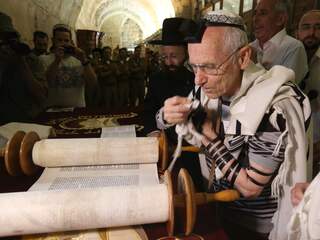 See also:
Man, celebrates bar mitzvah hundred years later than planned