Referee Pol van Boekel will find that on Sunday he is correct has acted in the tumultuous match between FC Utrecht and PSV (2-2) no penalty kick to give both the home team and the visitors.
PSV should, in the first half complain when Luuk de Jong when a corner kick was held by Timo Letschert. FC Utrecht if that is in the injury time when Simon Gustafson down was achieved by Denzel Dumfries.
"I saw that The Young was being held, but I found it too light for a penalty. I also against the VAR said, and that let to me know that that's true," says Van Boekel compared to FOX Sports.
"Dumfries made no conscious violation. It was very unfortunate what happened. You can get them both, but she does not have to give. I'm still behind my decisions."
Dumfries will find that Van Boekel is the right decision has made in the situation where he was involved. He acknowledged, however, that the author for a difficult task.
"It came through the grass. You can see that I wegglijd. You should make the referee also take into account the weather conditions. That he has done well. I had no intention to hit him. There was zero intent."
'Luuk his shirt was almost pulled out'
PSV-trainer Mark van Bommel was a very different opinion. He finds that Van Boekel the ball two times, on the dot had to focus.
"Luuk his shirt was almost pulled out. That was aware. The action of Denzel was unconscious, but it was a penalty kick. There you can get nothing else."
FC Utrecht trainer Dick Advocaat confirmed the words of Van Bommel and placed yet again his comments on the use of the VAR.
"Zeist, the netherlands also says that it is a penalty, so who am I to disprove? Last week got Emanuelson a red card because he accidentally did, now is Dumfries spared for the same reason. That's not true."
"Everyone thinks the VAR is excellent, I don't think that. For the violation of Letschert, he can also be a penalty kick, but the violation of Dumfries is much worse."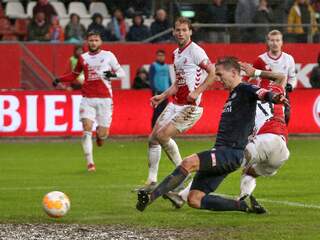 See also:
PSV plays in exciting duel at FC Utrecht and runs point from Ajax
View the results of the program and the position in the Premier league