NVWA warns of contaminated eggs with high concentrations of harmful substance
The Dutch Food and consumer product safety Authority (NVWA) warns consumers to eggs with the company X-NL-40155XX on the packaging not to eat them.
The content of the harmful substance fipronil therein is so high that consumption is an acute danger to the public health. That notifies the NVWA Monday.
The code is stamped on the egg. The eggs are retrieved from the shelves. Consumers are being advised the eggs and throw it away.
Also notifies the NVWA no eggs to eat with the codes: X-EN-43113XX, X-EN-43326XX, X-EN-43835XX, X-EN-42766XX, X-EN-42071XX, X-EN-43514XX, X-EN-41679XX, X-EN-43879XX, X-EN-43640XX, X-EN-42659XX.
The fipronil content in it is higher than the daily allowable amount of long-term consumption by children. Parents are advised to fill their child as a precaution, no eggs with these codes, to eat.
Fipronil
Fipronil is an insecticide against lice, fleas and ticks is used. It also sits at vlooienbandjes of cats and dogs.
The world health organization (WHO) defines fipronil as "moderately toxic" to humans. In large amounts it can damage to liver, kidney or thyroid. The substance can long-term use can be harmful for the overall health.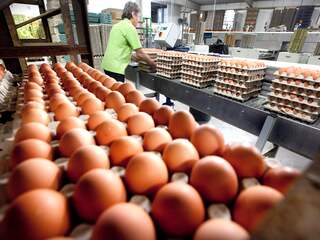 See also:
Leghenbedrijven shut down after find prohibited substance fipronil
Luizenbestrijder
The NVWA comes up with this warning after last week, it was found that a luizenbestrijder the past year, fipronil was used in a large number of sites against the chicken mite.
It is not allowed in poultry farming. Meanwhile, 180 poultry farms shut down. The relevant companies must have their supplied eggs to recall. The Public Ministry has opened an investigation against the luizenbestrijder, according to the NVWA.
The trade association for the eggs sector OVONED argues that since 22 July there is no contaminated eggs more in the shops. According to the organization, is the poultry sector "become the victim of a fraudulent act where the affected poultry farmers no part in."