NOS sends Monday celebrating Oranjevrouwen from
Photo: Getty Images
The Dutch vrouwenelftal, that Sunday evening in Enschede, the EK-final showdown against Denmark, 4-2 won, Monday to be honored in Utrecht. The NOS will this ceremony live broadcast.
The NIS shall send the names of the Oranjevrouwen directly from 18.50 hours on NPO 1. This is to 19.52 hours to see.
The team gets Monday at the Observatory on a boat on the Stadsbuitengracht to Lepelenburg speed. There, the European champions are on the stage have made their appearance for the Oranjepubliek.
The NOS is there the entire ceremony live. Gert van 't Hof is on the spot for the presentation of the broadcast, while Rivkah in 't Veld on the boat and on the stage talking with the players and other stakeholders.
Oranjevrouwen European champion after victory in Denmark
The basiself of Orange for the finals in Enschede.
© ANP
Nadia Nadim cheers after they Denmark early on from a penalty at 0-1 down.
© ProShots
Vivianne Miedema provides a intikker for 1-1.
© ProShots
Lieke Martens shoot Orange from a distance at 2-1.
© ProShots
The Danish aanvoerster Pernille Harder shoot the 2-2.
© ProShots
The captain Pointed and signed shortly after to rest from a free-kick for 3-2.
© ProShots
Miedema is hailed by Martens after the 4-2 short for time.
© ProShots
Share this photo via:
Back to slideshow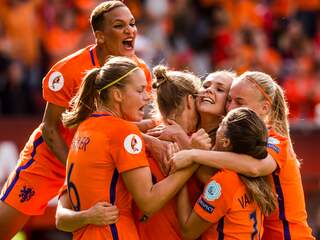 See also:
Historical EK-title Oranjevrouwen thanks to victory in Denmark