The charges were dropped against Tammie Hagen, who in more than two dozen dogs and cats during the Hurricane Florence.
(GoFundMe Page)
A North Carolina woman who was arrested last week after they sheltered 27 cats and dogs during the peak of the Hurricane Florence had her charges dropped Tuesday, a district attorney's office announced.
Tammie Hagen faces charges of practicing veterinary medicine without a license and ask for a donation of tramadol — a prescription pain reliever sometimes used for dogs and cats — after officials found her with the animals on Sept. 17.
On Tuesday, Wayne County prosecutors said Hedges' arrest stemmed from their concern for the welfare of the animals.
"The removal of the animals from a building that does not meet the appropriate standards for the license as an animal shelter and away from the control of this defendant, which had previously been censured for the unauthorized practice of veterinary medicine was a wise decision made in the best interest of the animals in mind," Wayne County District Attorney Matthew Delbridge said in a statement.
close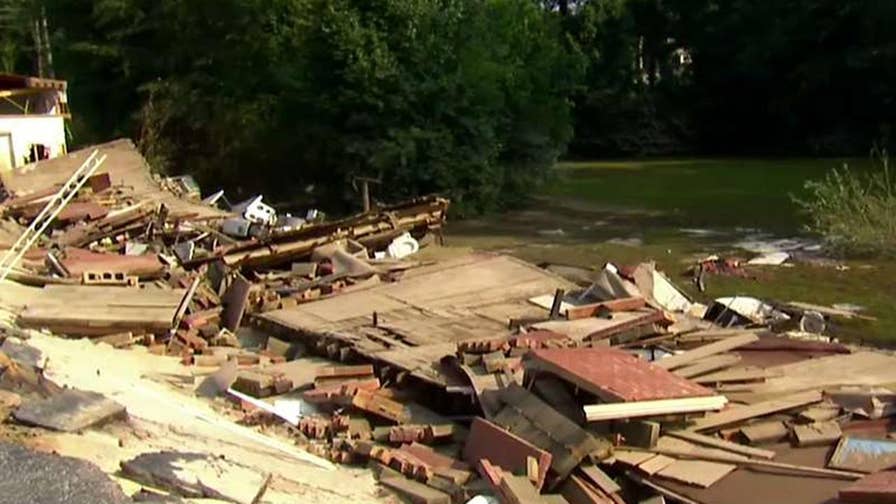 Video
Florence water begins to recede
North Carolina residents beginning to see the damage in the aftermath of the hurricane. Griff Jenkins reports.
He added that an underestimation of the cost to eliminate further distraction. The North Carolina Veterinary Medical Board will determine the following actions on Hagen.
WOMAN WHO SHELTERED HURRICANE FLORENCE ANIMALS IS CHARGED WITH PRACTICING VETERINARY MEDICINE WITHOUT A LICENSE
On Sept. 17, Hagen, the founder and director of Crazy's Claws N' Paws, showed more than 27 dogs and cats, Wayne County animal services officers after they determined the non-profit group that was active in a non-licensed shelter.
Hagen told the News-Argus of Goldsboro at the time that she felt that she had to help the animals that were brought to her during the storm. She added she gave amoxicillin for some of the sick animals, and also a topical antibiotic ointment.
"The owners had to evacuate. They got to save themselves. But who's going to save those animals? That is what we did," Hagen said. "We saved them."
Hagen received the support of the public and a GoFundMe page has been created to help her pay the legal costs. Wednesday, the fundraising page raised more than double the $20,000 goal.
Katherine Lam is a breaking and trending news digital producer for Fox News. Follow her on Twitter via @bykatherinelam