'No direct talks between government of Syria and opposition in Astana'
Photo: AFP
Representatives of the Syrian government and the opposition will be Monday no direct conversations with each other in the Kazachstaanse capital Astana.
Al Jazeera and al Arabiya report on the basis of representatives of the opposition that announced direct talks will not take place.
A delegation of Syrian opposition groups says, in addition, only the cease-fire and the provision of humanitarian assistance, want to discuss.
The representatives of the Free Syrian Army (FSA), a rebellenkoepel, saying willing to attempt it by Russia and Turkey-brokered cease-fire to the rescue. According to them, that file is mainly violated by Syrian insurgents by Iran to be supported.
The Syrian government said prior to the meeting in Astana the existing rebels to be regarded as "from the foreign-backed terrorists", but was willing to negotiate with groups that have the arms down and verzoeningsovereenkomsten signs.
The FSA rejects such terms and conditions. The rebels say that their goal is the regime of president Bashar al-Assad to end by means of a transition process under the supervision of the United Nations (UN).
'Delusion'
"We will not have any political debate. Everything revolves around the observance of the cease-fire and the humanitarian efforts for the suffering of Syrians in besieged places to relieve, the release of prisoners and the provision of emergency aid," said FSA spokesman Yahya al-Aridi.
"The Syrian regime has an interest in diverting attention from these issues. If the regime thinks that our presence in Astana, our dedication, is that is a delusion."
The veertienkoppige rebellendelegatie did not make a decision on direct talks with the government delegation, said al-Aridi. According to him, it is likely that the communication will take place via intermediaries, as was the case during the UN conferences in Geneva.
"There are complications if you are in conversation with those who you land entered and you still kill, and with a regime that a cease-fire has not complied with its destructive policy continues, and his own people to kill," said al-Aridi.
Betrayal
The FSA was under a lot of pressure from Turkey to the peace talks in Astana to attend. Other rebel movements accuse the dome of betrayal.
Just before the beginning of the conference on Monday morning, the FSA is still the question of whether the opening session of the talks would attend, because the delegation is there in the same room should be if the Syrian government negotiators.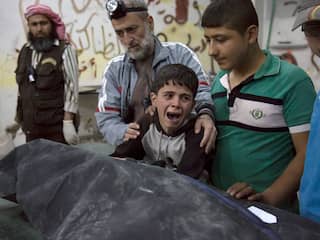 See also:
The state of affairs in the Syrian civil war