No chance on a bronze for The White at the world CHAMPIONSHIPS judo after loss in re-sits
Frank de Wit on Thursday at the world championships in judo in Budapest turned off in the fight for the medals. The 21-year-old judoka lost in the resits on ippon of the Mongolian Uuganbaatar Otgonbaatar.
The White had earlier on Thursday in the quarterfinals of the class up to 81 kilograms are multiple need to recognize in Saeid Mollaei Iran. The White, visibly tired after his earlier performances on Thursday, lost by ippon.
A victory on the Mongolian Otgonbaatar was necessary to continue to monitor on a bronze medal. That didn't work. The White lost on ippon, giving the 21-year-old Dutchman finished seventh ends. Earlier this year, lost The White on the EK is also the battle for the bronze.
The White won in the morning, however, openingspartij of the German, Benjamin Münnich and showed that he is then also stronger than the Pole Damian Szwarnowiecki.
EK
Earlier this year, in april, lost The White at the European championships the battle for the bronze.
When the world cup was The White Thursday, the only Dutchman who took action. Sam van 't Westende and Margriet Bergstra went Wednesday during their first appearance too.
Friday, there are plenty of medaillekansen for the Netherlands Kim Polling and Sanne van Dijke in the category up to 70 kilograms and Guusje Steenhuis and Marhinde Verkerk in the category up to 78 kilograms.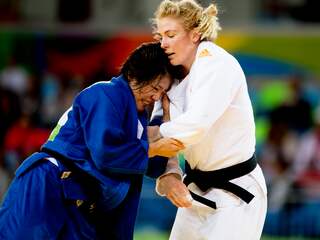 See also:
Polling state after 'mental break' eager for first tournament since Rio