Football
Nijhuis confirms that the winner is decided by own goal PSV goalkeeper Zoet
Photo: ProShots
The winning goal Sunday in the top match between Feyenoord and PSV (2-1) was an own goal from goalkeeper Jeroen Zoet, as confirmed arbitrator Bas Nijhuis after end of The Cockpit.
Initially came the hit in the 82nd minute in the name of Jan-Arie van der Heijden, the ball inkopte from a corner. Sweet returned the ball to the line, but then he pulled the ball behind the line for the ball to throw.
"I saw the ball on the line was" told to Publish after the end of The Cockpit against NUsport. "I looked for the security course at my watch, which, thanks to doellijntechnologie indicating whether a ball is over the line."
"That watch should blink at a goal, but it remained black. I therefore wanted to run away, because it was not a goal. A few seconds later, went the clock, all of a sudden flash, and he indicated that a goal was. Therefore, did I still. I do not doubt the clock."
Originally thought to Publish and even that the system is very late. "I was initially quite surprised. Now I have the images seen. It turns out that Sweet the ball saved on the line and then to his side making it still a goal. I have it as an own goal from Sweet on the competition form."
Feyenoord-PSV
The match between Feyenoord and PSV in The Cockpit was preceded by a beautiful sfeeractie.
© ProShots
Feyenoord-captain Dirk Kuijt started on the bench.
© ProShots
Feyenoord came after just nine minutes of play on a 1-0 lead by a goal by Jens Toornstra.
© ProShots
The midfielder was the terminus of a beautiful Rotterdam attack.
© ProShots
PSV midfielder Marco van Ginkel got to rest a tap from Steven Berghuis to process and had to be injured to the side.
© ProShots
Gaston Pereiro brought PSV in the 62nd minute at the same height.
© ProShots
Jan-Arie van der Heijden put Feyenoord are short for time, with the help of the doellijntechnologie at 2-1.
© ProShots
The header from the defender was by PSV goalkeeper Jeroen Zoet a millimeter behind the goal line and turned, as demonstrated in the doellijntechnologie on the watch of an arbitrator Bas Nijhuis.
© ProShots
Share this photo via:
Back to slideshow
Protests
After the team protested the PSV'ers still Nijhuis, but according to the arbitrator was that unfounded. "First they shouted that the ball has not crossed the line. I explained that the system said yes and then they said suddenly that there was a violation made would be on Hector Moreno. Thus, it is always something."
"As I said, I have the time now return, and there was absolutely no question of a violation. It was just a valid goal."
On the stroke of peace accused the PSV players already at Nijhuis, after Gaston Pereiro went down in the penalty area but the referee is not at the dot exercise. According to Nijhuis was also a correct decision.
"The rest I got on my phone all the confirmation that it was not a penalty kick. I have further in the rest no one has ever heard of, and that is a good sign. In the second half there were some moments where a player has a hand on the shoulder was, but it fitted in the line of the race (also, there is no penalty for it."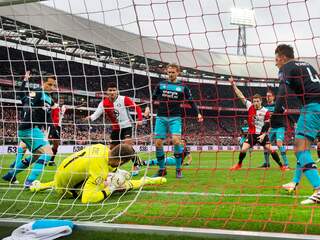 See also:
Feyenoord to win with doellijntechnologie topper against PSV
Headset
Nijhuis was referring thereby to the fact that he is not all affloot. "That was the plan. I had previously told my assistants said that they have not had flags as they thought of a breach, but the headset had to call. Then I had the choice to let it go."
"I have, in the first 25 minutes tried and that was well picked up by the players. So it could be a pretty fight."
View the results of the program and the position in the Premier league