New Venezuelan grondwetsraad relieve critical chief prosecutor
Photo: AFP
The controversial Venezuelan constitutional council, which last Sunday was elected attorney-general Luisa Ortega Díaz Saturday, dismissed. Ortega is known as one of the fiercest critics of the Venezuelan government.
The Venezuelan Supreme court sent earlier on Saturday a letter to the new council be informed of criminal allegations against Ortega. She is accused of "command to have given serious misconduct". That was not further explained.
The office of Ortega was Saturday morning (local time) surrounded by members of the National Guard, that its access refused. Against journalists, said the attorney-general that they have been abused. One of the agents would have her beaten with a politieschild.
Ortega will be replaced by the current mensenrechtenombudsman of president Nicolás Maduro, Tarek Saab. He is an ally of the government. The opposition accuses Saab of its violations of human rights by the state to have ignored.
Opkomstfraude
Ortega has become the main opponent of the regime of Maduro from his own socialist movement. They took that role after the outbreak of the mass demonstrations against the government in april. At which protests are already more than one hundred and twenty people to the life to come.
The attorney-general, accused Maduro of human rights violations. Also he would have tampered with the attendance rates of the elections that the 545 members of the constitutional assembly were appointed. The vote was boycotted by the Venezuelan opposition, giving the council only from supporters of the president. Ortega announced Thursday a judicial inquiry into the elections.
Dictatorship
The powers of the constitutional assembly to know no limit. The decision to Ortega to dismiss by critics, seen as an ominous sign that Maduro is heading to a dictatorship.
Different countries have last week, economic sanctions against Venezuela announced. Saturday announced the South American trading bloc Mercosur to the country for to suspend.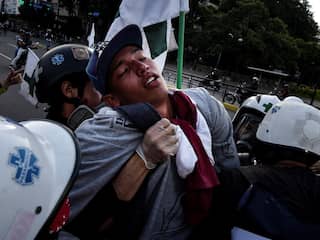 See also:
Heading Venezuela to a civil war?