Nearly four hundred dead in violence after Rohingya rebellion Myanmar
Photo: AFP
Nearly four hundred people in the past week to the life in the north-west of Myanmar in the fight between Rohingya insurgents and government forces.
This is probably the most deadly spiral of violence in decades in that region.
About € 38,000 Rohingya have now from Myanmar to Bangladesh fled, say sources at the United Nations.
A week ago attacked Rohingya insurgents police stations and an army base in the state of Rakhine. The subsequent clashes and a military counter-offensive caused the exodus.
Terrorists
The army says that the opruimingsoperaties run against "extremist terrorists" and that security forces civilians to protect. But the Rohingya say that a campaign of arson attacks and killings aimed to dispel.
The treatment of Myanmar's approximately 1.1 million Rohingya is the biggest challenge facing the national leader Aung San Suu Kyi is currently. Some western critics accuse her of it, not to speak out for the minority who have long about persecution and complaining.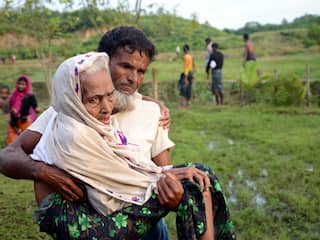 See also:
Background: Why are 'second-class' Rohingya will not be welcomed anywhere?