Municipality of Breda, place additional fences at the Glass House
After the attack on the christmas market in Berlin, the authorities are extra alert to the situation around the Glass House. Mayor Paul Depla of Breda made it known that there are around the Grand place additional fences.
In this way, the council wants to avoid that car's too close to the Glass House.
The fences are there early in the morning as vendors, the stores, supplies and lorries to the centre. "We were prepared for this awful scenario," says Depla. "We had, therefore, already with cars the access roads to the main Market square cordoned off so that no trucks could and can come. The events of Monday night to ensure that we are extra alert."
The entrepreneurs in the area have been informed. "We understand that this measure is for any additional inconvenience. We ask for this understanding. Safety has our highest priority," said the mayor.
Music adapted
Two 3FM djs in the Glass House for six days, radio and tv without that they eat. They ask for so attention for children who die from pneumonia, and pick up money.
The program of the Glass House is Monday night custom. After the events in Berlin decided dj's Domien Verschuuren and Frank van der Lende the music to change.
Plates about the love
"It feels to us is not quite right now to say: here we go for an hour long jump and beech," said Verschuuren. He and Van der Lende had on Monday night a danceuur arranged. Several djs, including Fedde Le Grand, Oliver Heldens and dj Jean, came to Breda in order from the Glass House to run.
"It's crazy to now be completely out of your pan and go jump and dance, while nine of the dead are in Berlin," said Van der Lende. The existing dj's shared that opinion and decided the choice of music to match. On the turntables were mainly plates about the love.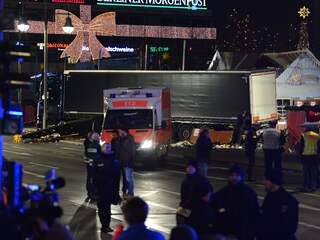 See also:
This is what we know about the attack on the christmas market in Berlin