close

Video
The inspector says he tried to warn Missouri duck boat company
The inspector says that he tried to ward duck boat company about design flaws for up to 17 people were killed in Missouri.
The Missouri river duck boat capsized in July, killing 17 people, in the first instance, sank in 15 metres of water for the shed on the lake floor, coming to rest 70 metres from the water, the National Transportation Safety Board said in a preliminary report.
In the report released Tuesday, the NTSB said the Ride the Ducks boat had met more than 70 mph winds and thunderstorm warnings were issued in the area when the ship sank in the Table Rock Lake just after 7 pm on 19 July.
"The Rack Duck 7 was carrying 31 persons: 29 passengers and two crew members. The ship sank in about 15 feet of water and came to rest on the lake floor at a depth of 70 metres. Seventeen people have died, including a member of the crew," the NTSB stated.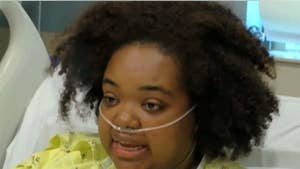 Video
Survivor: Duck boat riders told that they would not need life vest
SUNKEN DUCK BOAT INCREASED OF MISSOURI MORE DAYS AFTER 17 PEOPLE WERE KILLED
Researchers have collected a lot of information, including the duck boot, the video recording of the system, although the researchers are still attempting to access the data. A data sim card for the recording system is restored and the officials of the viewing of the video files.
Mobile phones, camera, and weather data were also collected and sent to the researchers. Authorities interviewed 33 witnesses, the owners, the inspectors and the managers of the company who is on the scene.
The duck boat was raised from the lake four days after it sank.
Of the 17 killed, nine were from the same family. The other tourists on board were from Missouri, Arkansas and Illinois.
The Associated Press contributed to this report.
Katherine Lam is a breaking and trending news digital producer for Fox News. Follow her on Twitter via @bykatherinelam