The US Capitol building in Washington DC
(iStock)
House and Senate negotiators announced on Monday that they had reached agreement on a package of three spending bills to the value of $146.5 billion in all.
The so-called "minibus" includes bills, funding the energy Department, the Department of Veterans Affairs and the legislative branches of the government. Sources say, Fox News, the Senate is likely to move first to the vote on the measure, followed by the house. The goal is to send the measure to the White house for President Trump signature until the end of this week.
Speaker Of The House Of Representatives Paul Ryan, R-Wis., and the Senate Minority Leader Chuck Schumer, D-NY, praised the legislation, Ryan said, "is the revitalization of our Central process.
"The financing of the government is the Congress, the basic tasks, and this conference reports a strong first act will said," Ryan.
The amalgamated mini-bus spending bill that totals $146.5 billion.
$97.1 billion for military-construction/VA
$44.6 billion for energy/water programs
$4.8 billion to run the legislative
Fox said the Senate will likely first move in this week, followed by the house.
— Chad Pergram (@ChadPergram) September 11, 2018
To deliver "by working across the aisle with our Republican colleagues, Democrats were able to critical investments for the American people, including our veterans, the scientific research, the most important energy and water infrastructure and more," Schumer said.
Congress has until Oct. 1 to avoid a government shutdown, which would be the third under uniform Republican control of the government. Trump has threatened to force a shutdown in order to secure funding for a wall along the U.S.-Mexican border.
In March, after the previous government shutdown, Trump vowed that he would veto any future so-called "omnibus" bill that came to his Desk. "Omnibus" describes a combination of legislation needed to Finance the government.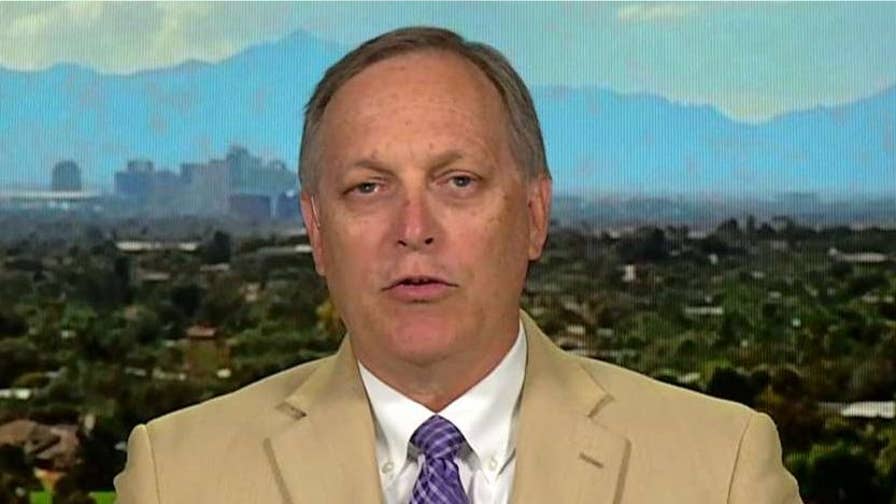 The compromise bill announced Monday is the first of three "mini-buses" , which would Fund a large part of the government, including the military and most civilian agencies. The second "Bus", would be the funding of the departments of defense, labor and health and Human Services. A third "minibus" that would Fund the interior Ministry and other authorities.
The Senate already nine of the 12 spending bills has been approved, enough to Fund almost 90 per cent of the government. However, the house has approved only three, and neither chamber has agreed on the details of any other uniform invoices.
This means that both the house and the Senate can be forced to approve a stopgap solution to a continuing resolution to avoid shutdown. The stopgap measure would Fund all expenditure areas not covered by the "mini buses."
Fox News' Chad Pergram and The Associated Press contributed to this report.