Meppelink/Van Gestel sure of the eighth finals european CHAMPIONSHIPS beach volleyball
Photo: The Dutch Volleybal
Madeleine Meppelink and Sophie van Gestel have Thursday assured of a longer stay at the european CHAMPIONSHIPS of beach volleyball. The Dutch couple, as a fifteenth-placed, calculated in the Latvian Jurmala in his second pouleduel with Inna Makjno and Irinia Makjno: 2-0 (21-15 and 21-14).
The German pair Karla Borger/Margareta Kozuch, second-placed in the Latvian Jurmala, was then in three sets just too strong for the Dutch women: 21-18, 16-21 and 21-19. Meppelink and Van Gestel that the group's profit are wrong.
They finished second in their pool and will play Friday in the tussenronde for a place among the best sixteen.
Do the same Annemieke Driessen and Ilke Meertens, all lost their last groepsduel. The Spanish couple Elsa/Soria won in two sets, 21-11 and 21-11. Had previously Driessen and Meertens the Finnish duo Sinisalo/Ahtiainen with a 2-0 (22-20, 21-18) reports.
Driessen and Meertens were the european CHAMPIONSHIPS Wednesday started with a stray defeat against the first-placed German pair Chantal Laboureur/Julia Sude.
Sinnema/Stubbe
Also Jolien Sinnema and Joy Stubbe come Friday in the tussenronde. After their victory on the Russian team Yulia Abalakina/Ksenia Dabizja (21-16 21-15) lost to the as fourteenth-placed couple of the songs three of the plaatsingslijst, the Swiss Joana Heidrich and Anouk Vergé-Dépré: 21-17, 19-21 and 15-10.
Alexander Brouwer and Robert Meeuwsen were already sure of a place in the next round and won their third duel. The Dutch couple was wed night in addition, group winners after victory at the Belgian duo Dries Koekelkoren/Tom van Walle, 21-17 and 21-16.
Two weeks ago at the world CHAMPIONSHIPS in Vienna were the Dutch, the Belgians switched off. Koekelkoren and Walle also had their first two matches at the european CHAMPIONSHIPS won.
Brouwer and Meeuwsen in Latvia, the only Dutch participants in the men.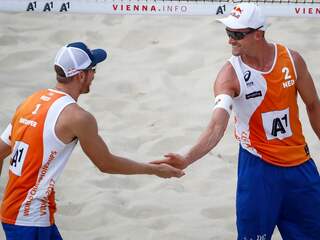 See also:
Brouwer/Meeuwsen begins EK beach volleyball with victory