Meppelink/Van Gestel sure of second round of european CHAMPIONSHIPS beach volleyball
Photo: The Dutch Volleybal
Madeleine Meppelink and Sophie van Gestel have Thursday assured of a longer stay at the european CHAMPIONSHIPS of beach volleyball. The Dutch couple, as a fifteenth-placed, calculated in the Latvian Jurmala in their second pouleduel with Inna Makjno and Irinia Makjno: 2-0 (21-15 and 21-14).
Wednesday was the Dutch duo already too strong for the Finsen Neat Tuominen and Riikka Lehtonen. Later on Thursday is for Meppelink and Van Gestel, the last poulewedstrijd, against the German women's Karla Borger and Margareta Kozuch.
Annemieke Driessen and Ilke Meertens recovered from their bad start. The Dutch women won Thursday, their second team contest against the Finnish duo Ida Sinisalo and Niina Ahtiainen with a 2-0 (22-20 and 21-18).
Driessen and Meertens were the Wednesday's event started with a stray defeat against the first-placed German pair Chantal Laboureur/Julia Sude.
Later on Thursday is the third and last poulewedstrijd, against the Spanish beachvolleybalsters Elsa Baquerizo and Paula Soria.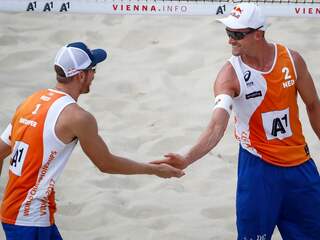 See also:
Brouwer/Meeuwsen begins EK beach volleyball with victory