Fox News' Martha MacCallum and filmmaker Jason Pollock went toe-to-toe on "The First 100 Days" Monday about Pollock's new documentary about the 2014 shooting of Michael Brown in Ferguson, Mo. and Pollock's claim that Brown was shot in the head and a bullet came out of his eye.
They also sparred over the importance of the surveillance images that Pollock claims proves that Brown not robbing a supermarket, before he was shot to death.
Joining the debate, St. Louis County prosecutor Bob McCulloch said Pollock "has his facts wrong, not shocking. There was no bullet in the ground somewhere in the neighborhood Michael Brown … He is the make of the facts as he goes along in order to push his movie."
MacCallum challenged Pollock about the reputation of the store-the images in the documentary.
"It makes no difference whether a robbery occurred or a trade for pot is done, or a bank got robbed or he was at home, doing his homework," the host said. "What is important is what happens in the street, when he and Officer [Darren] Wilson meeting with each other."
In response, Pollock claimed that McCulloch, the FBI and the Department of Justice conspired to ensure that Wilson was not indicted in Brown's shooting, which led to protests across the country and the emergence of the Black Lives movement.
"You know how the system works," Pollock said. "These agents get off every time."
"You set that 40 FBI agents were all in cahoots –," MacCallum began.
"I'm suggesting that the Ministry of Justice has failed," Pollock cut her off.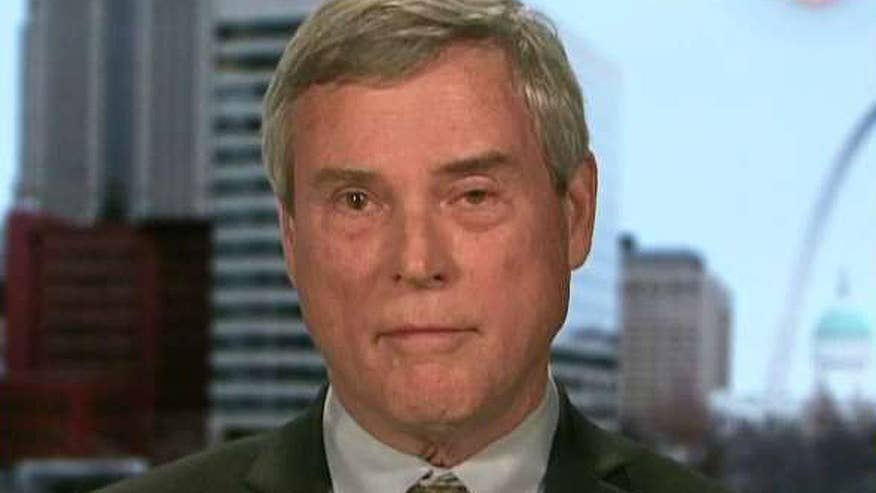 Pollock later swore that his film "will show the public the truth" reveal facts "that Bob McCulloch does not want to talk to us about, such as the fact that Michael Brown was shot in the head and a bullet came out of his eye."
MacCallum pointed out that three separate forensic investigation showed that Brown was shot from the front.
"I don't care," Pollock said. "They failed him. They all failed."
"Everyone in the country was told that this story that he was shot in the back," MacCallum replied. "That he had his hands up and said: 'don't shoot' –"
"Do you know how many black men in prison right now for nothing?" Pollock cut MacCallum. "Because the Ministry of Justice has failed? … Not only tell me, because she closed the book, we are OK."
Earlier Monday, a lawyer for the shop owners said that the images used by Pollock in his film, "100 percent false." Jay Kanzler said the interaction between Brown and a convenience store employee shown in the film was edited down from 4 minutes and 30 seconds.
McCulloch argued that the police had the same pictures and it was "logically and legally irrelevant and unimportant, which is why it was never presented to the grand jury."