Defendants Thomas Massey (left) and Tom Keenan, are accused of being members of Antifa and the attacks of a group of Soldiers and reservists in Philadelphia.
(Philadelphia Police Department)
Two alleged Antifa activists accused of attacking a couple of Marines in Philadelphia were ordered to stand trial just after Christmas, on aggravated assault and conspiracy, after a dramatic day of testimony last week in which the Marines described being beaten and called ethnic slander.
U. S. Marine Corps reservists, Alejandro Godinez and Luis de Torres, dressed in their military uniforms, testified Thursday against defendants Thomas Massey and Tom Keenan, who were allegedly a part of a larger group of leftist Antifa activists that began with the defeat of the Marines after because they are for participants in November "We the People" rally in the Old City.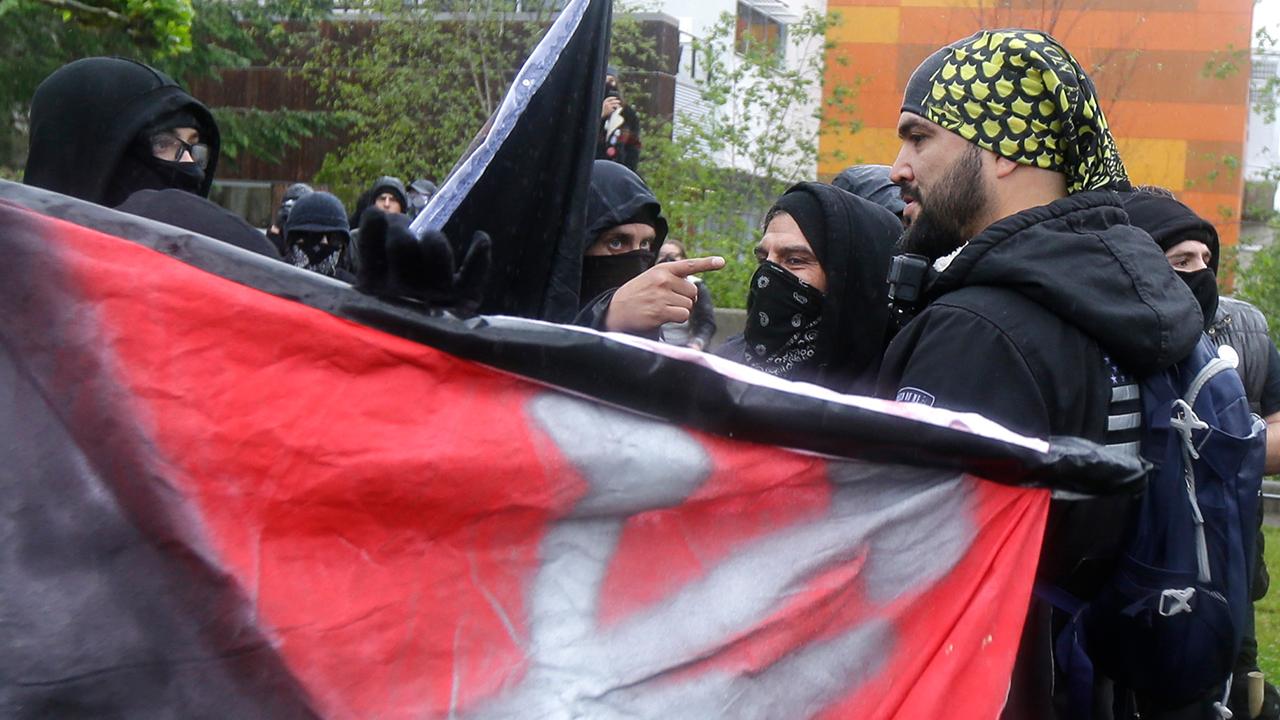 Antifa: What is the alt-left group?
Alt-left anti-fascist action group, 'Antifa," continues to show up at political protests on college campuses in the U.S., provoking violence and the promotion of the agenda
The two Marines testified they were in Philadelphia to attend a Marine event in a local hotel and have been touring attractions around the city, when they were approached by Keenan, who allegedly asked the men if they are "Proud of the Boys" – an allusion to one of the right-wing groups behind the Nov. 17 rally, the Philly Mag reported.
Torres said he did not know what "Proud of the Guys" means. It was after that interaction, Godinez said, Keenan, Massey, and about ten other people – men and women, some masked and some unmasked – began the attack on the Marines: punching and kicking them, using mace and hurling, insults and other insults.
ANTIFA MEMBER CHARGED IN ATTACK OF THE MARINE RESERVISTS IN THE NEIGHBOURHOOD OF 'WE THE PEOPLE' RALLY IN PHILADELPHIA
Godinez testified that he was baffled by the name, a white supremacist and allegedly shouted "I'm Mexican." But, he said, that is not to scare off his attackers, who then began to shout ethnic slander.
"The best way I can describe it is the sound of people singing in a football stadium," he told the court, adding Keenan was "laugh, laugh, and have a good time, while I would have died on that day."
The two Marines said they were taken to Jefferson Hospital after calling 911. Godinez said he was sprayed with mace at least six times, hit in the head and kicked in the ribs. Torres has no right to treatment in the hospital, Philly Mag reported.
Keenan and Massey did not speak during the hearing. But Keenan's lawyer was mildly rebuked after referring to the incident as a struggle, leading the judge to answer, "This is not like children on a playground."
A misdemeanor charges of ethnic intimidation was added at Keenan for allegedly yelling ethnic slander. The two men also face a host of felony charges.
Their next court date is scheduled for December 27.