Marine Corporal Jimmy Reddington was killed in Vietnam in 1967.
Two Purple Hearts and other medals awarded to a Marine killed in Vietnam were posthumously awarded to the fallen hero during a ceremony Saturday in Pennsylvania.
Corporal Jimmy Reddington, a Scranton native, was 19 when he was killed on 23 March 1967. He was in Vietnam for three months.
The ceremony– held in the centre of Scranton in time for Memorial Day– drew a large crowd, including the Marines who served with Reddington in Vietnam in Echo Company, 2nd Battalion, 5th Marines, the Scranton Times-Tribune reported.
"We remember today not only the Jimmy Reddingtons, but all that gave their lives with honor for this country in all wars and all conflicts," Ernie Preate Jr., a Marine veteran of the Vietnam War, and the president of the Friends of Jimmy Reddington Memorial Committee, told the crowd, according to the paper.
DON'T FORGET WHAT MEMORIAL DAY IS REALLY ABOUT
Reddington was killed when he charged an enemy position, the paper reported. His friend and fellow soldier Joe Silvestri had just been badly injured in an ambush.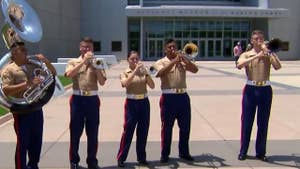 Video
Quantico Marine Corps band will give a patriotic performance
"I never wanted Jimmy to do that! I never wanted him loyal to me, but he was, and not only to me but to the whole team!" Silvestri told WBRE-TV on Thursday.
Reddington's parents and sister are dead, so the medals were presented to the marine Corps League in Scranton.
The Times-Tribune reported that a memorial service for Reddington with full military honors will be held on Sunday at 11 a.m. at his grave in the Cathedral Cemetery in Scranton.