Manchester City hits hard back to the "fiction" of the chairman of La Liga
Manchester City has threatened legal action against Javier Tebas. The chairman of the Spanish La Liga said on Wednesday that the English football club, just as Paris Saint-Germain, a "financial dopingzondaar".
"The statements of the lord Tebas are poorly informed and partly pure fiction," writes the City Football Group, the owner of Manchester City, in a statement.
"As you can expect to win the City Football Group and Manchester City, legal advice, and we will, in accordance with that advice act."
Tebas cited Wednesday at a conference in Manchester hard out to City and PSG, who are respectively owners from Abu Dhabi and Qatar, and both this summer, more than 200 million euros in transfers have been published. PSG paid for Neymar alone, 222 million euros.
"PSG laughs to the transfer system", said Tebas. "We have them caught while they are in the swimming pool to the lakes. We can not longer accept this. I want more televisiegeld, because otherwise hijacks City all the players away with his petro-dollars."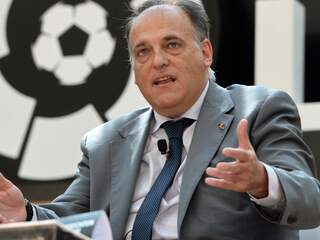 See also:
Chairman La Liga dissects 'financial dopingzondaars' PSG and City
Unworthy
The organizer of the French league (LFP) has Tebas in a separate statement also firmly of the reply served. "The LFP condemns the offensive statements about PSG of the chairman of La Liga."
"This unworthy lyrics don't fit the standard of a respected institution like La Liga."
The UEFA reported last week that the league is investigating whether Paris Saint-Germain has complied with the rules of Financial Fair Play, that should ensure that a club cannot spend more money than comes in.
Tebas early Tuesday in a letter to UEFA or even City can be investigated, but the European football association responded with a statement that such research not comes.
The largest foreign transfers
An overview of the largest foreign transfers. Neymar left Barcelona FC for no fewer than 222 million euros for Paris Saint-Germain.
© ANP
Ousmane Dembélé: from Borussia Dortmund to FC Barcelona
© ANP
Kylian Mbappé: from AS Monaco to Paris Saint-Germain
© ANP
Romelu Lukaku: Everton to Manchester United
© ANP
Alvaro Morata: Real Madrid to Chelsea
© ANP
Benjamin Mendy: from AS Monaco to Manchester City
© ANP
Alexandre Lacazette: from Olympique Lyon to Arsenal
© ANP
Kyle Walker: Tottenham Hotspur to Manchester City
© ANP
James Rodriguez: Real Madrid to Bayern Munich (on rental basis)
© ANP
Bernardo Silva: AS Monaco to Manchester City
© ANP
Leonardo Bonucci: Juventus to AC Milan
© ANP
Mohamed Salah: from AS Roma to Liverpool
© ProShots
Corentin Tolisso: from Olympique Lyon to Bayern Munich
© ANP
Tiemoué Bakayoko: from AS Monaco to Chelsea
© ANP
Ederson: from Benfica to Manchester City
© Getty Images
Federico Bernardeschi: from Fiorentina to Juventus
© ANP
Nemanja Matic: Chelsea to Manchester United
© ANP
Davinson Sanchez: from Ajax to Tottenham Hotspur
© ProShots
Near Keita: RB Leipzig to Liverpool (summer 2018)
© ANP
Share this photo via:
Back to slideshow