connectVideoWhy maternal mortality rates in the U.S. continue to rise
The U.S. continues to see maternal mortality rates to rise, and yet 60 percent of these deaths are preventable, says the CDC. Fox News' Dr. Manny Alvarez, a high-risk obstetrician will discuss three of the most common complications during pregnancy, and what everyone can do to help put an end to maternal mortality worldwide.
Tara Hansen was 29 years old when she gave birth to her son Brandon. Her pregnancy was healthy and without complications, according to her husband, Ryan Hansen.
"We made all the doctor's appointments, read all the books, did the lessons, everything you expect to do during your first pregnancy," Ryan told Fox News. "She has given birth, and we had a healthy baby."
But almost 36 hours later, and now back at home, Tara began to experience flu-like symptoms, in combination with extreme fatigue and fainting.
"She knew that she didn't feel well. She knew that her body must not be as exhausted as she felt. She had pain in the delivery environment, and things of that nature and that kind of continued to the point where they really did not know that there was something wrong and we had to warn our physicians," Hansen said.
Tara had contracted an infection and died six days after her birth.
She is one of an estimated 700 women die in the U.S. from pregnancy or birth complications a year.
Since the death of his wife, Hansen has The Tara Hansen Foundation, an organization dedicated to the promotion of the health of mothers consciousness.
60 percent of the maternal deaths in the U.S. are preventable.
— Centers for Disease Control and Prevention (CDC)
"With the realisation that not only her, only it was not our family, that this is an event that happens anywhere in the country, different women in different places of different economic status. It is alarming how many women die every year," he said. "I wanted to do something to educate parents."
According to the Centers for Disease Control and Prevention (CDC), 60 percent of the maternal deaths in the U.S. are preventable.
"Women in America in 1990 had a better chance of surviving childbirth than her daughter and is doing today," Dr. Mary-Ann Etiebet, a medical doctor and director of Merck for Mothers, a program that is run by the pharmaceutical company Merck to the number of maternal mortality all over the world.
COLORADO FATHER WELCOMES BABY GIRL, LOSES HIS WIFE ON THE SAME DAY
Etiebet said: there are several reasons why the U. S continues to see maternal mortality rates to rise. One being, that there is a limited amount of data about maternal mortality, so many people don't recognize it as a problem.
According to the World Health Organization (WHO), the united states is the only highly-developed country where deaths from pregnancy or childbirth.
"A second reason is because more and more women are actually pregnant at the time that they have other chronic disease, whether diabetes, high blood pressure, obesity-all things that increase the risk for maternal death," Etiebet said.
Etiebet also said that doctors often do not listen to their patients concerns as much as they should.
"As a community, we do not listen to women, we don't respond to what they tell us and not to integrate their needs," Etiebet said. "We're going to miss the warning signs and our ability to make of women the correct way and save their lives."
Hansen can attest to the problem of the patients might be overlooked by some doctors.
"I wonder if the routine nature and frequency of childbirth, that maybe we became complacent," he said. "Given my experience, it felt like you are here, you had your baby and now you have X number of days here and you go home, but this is a major medical event and I think that, to some extent, maybe that was forgotten."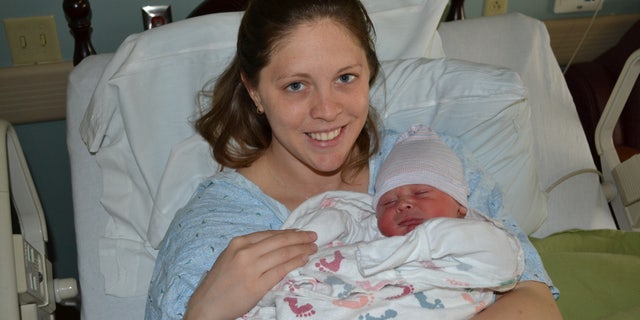 Tara Hansen died six days after the birth of her first child, Brandon Ryan.
To help increase the patient's consciousness, Hansen is an initiative started under the name "Stop, Look, Listen" – with the Rutgers New Jersey Medical School, he says, will help educate parents and families to be better advocates for their own care.
"We're asking doctors to stop and remove themselves from what they are doing and focus on me. I need them to look at the environment at hand and I need them to listen to all my concerns," he said.
Fox News' Dr. Manny Alvarez, said a woman may have complications after the birth of the baby. Here are three of the most common complications associated with maternal morbidity and the symptoms of everyone is preparing for a new baby need to know:
Postpartum hemorrhage:
Postpartum bleeding, also known as PPH, is when a woman develops heavy bleeding after childbirth. It usually occurs within 1 day of birth, but can be up to 12 weeks after having a baby.
Symptoms may include: severe bleeding, elevated blood pressure, increased heart rate, and a decrease in the red blood cells.
"If you immerse your path more than an hour or if you have a blood clot larger than the size of an egg, that is a sign that you need to search for immediate medical attention," Dr. Etiebet said.
Postpartum pre-eclampsia:
Postpartum pre-eclampsia is the combination of high blood pressure and signs that some organs, like her kidneys and liver are not working properly. It is often associated with a swelling in the feet, legs and hands. Other symptoms can include: severe headaches, changes in vision and nausea or dizziness.
Most cases of postpartum preeclampsia develop within 48 hours of the birth, but it can sometimes develop up to six weeks or later after childbirth, according to the Mayo Clinic.
Pulmonary embolism:
Pulmonary embolism (PE) is a blockage in one of the pulmonary arteries, the blood vessels carry blood from the heart to the lungs. The blockage is usually caused by a blood clot that forms in the legs or lungs. Some studies suggest PE caused 20 percent of maternal mortality. Symptoms may include: shortness of breath, chest pain, cough, and pain in the leg or swelling.