An attacker sucker punched a 5-year-old boy on the New York city subway, police said.
(NYPD)
Police on the hunt for a man who approached a 5-year-old boy ride the subway of New York and punched him in the face as the mother of the child stood beside him.
The unknown man was on the G train just before 4:30 pm Saturday, when he fell, the boy that stood next to his mother, police said. The train was approaching the Bergen Street station in Brooklyn's Cobble Hill neighborhood.
The man then taunted the child on the flight for the train when the doors opened at the station.
It is unclear what provoked the attack. Police sources told the New York Daily News that the attacker shouted at the boy, "you go cry to ya mommy?"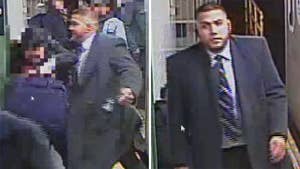 Video
Violent sexual assault suspect sought by the NYPD after subway attack
The boy suffered bruising and swelling to the left side of his face. He was taken to the hospital and treated for his injuries and later released.
The police shared photos that a bystander bite of the alleged attacker. The suspect was described as a man of approximately 6 feet fall, 160 pounds with a medium build, short black hair and a mustache.
Katherine Lam is a breaking and trending news digital producer for Fox News. Follow her on Twitter via @bykatherinelam