LG unveils middle-class smartphone with a borderless screen
Photo: LG
LG has a middle-class smartphone with a nearly borderless screen revealed. The Q6 is a smaller variant of the earlier G6.
Where the G6 has a screen of 5.7″, the Q6 with a diameter of 5.5 inches or slightly smaller. Choose LG for a less powerful chip and there on the back one camera, instead of the dual camera on the G6.
In addition, the Q6 no finger print scanner, but is face recognition used to unlock the device.
The Q6 will have 3 GB ram and 32 GB of storage space. There will also be a Q6+ with 4 GB ram and 64 GB of storage, in addition to a Q6a with 2 GB ram and 16 GB of storage.
It is unclear when the Q6 exactly come to the Netherlands and whether all three variants will appear. Also the price is not yet known. LG makes Tuesday the only known that the Q6 next month to Asia.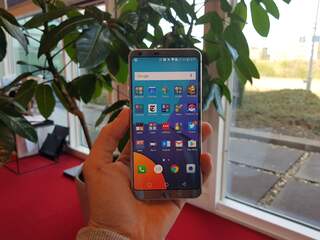 See also:
Review: Stylish, LG G6 is a huge step forward