connectVideoDiCaprio Calls for Climate change Candidates
DiCaprio Calls for Climate change Candidates
Leonardo DiCaprio saw River Phoenix just before the "Stand By Me" star's tragic death in October 1993.
"I grew up revering River Phoenix as the great actor of my generation, and all I ever wanted was just a chance to shake his hand," DiCaprio, 44, told Esquire.
"One night, at a party in Silver Lake, I saw him walk up the stairs. It was almost like something you would see in 'Vertigo', because I saw that there was something in his face, and I'd never met him — have always wanted to meet him, always wanted to just meet with him — and he walked up to me and I froze. And then the crowd got in my way and I looked back and he was gone."
SAMANTHA MATHIS OPENS UP ABOUT RIVER PHOENIX, AND THE DEATH
DiCaprio closed, "I ran back up the stairs and down again, and I was like, 'Where is he going?' And he was … on the way to The Viper Room."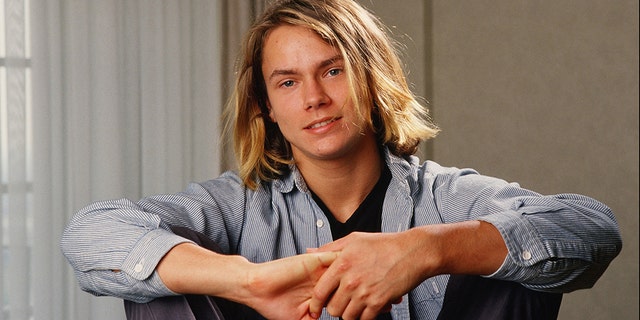 Actor River Phoenix, the star of "Stand By Me," playfully poses during a 1988 Los Angeles portrait session. Phoenix, a rising young film star, died tragically in 1993 outside a Sunset Strip nightclub of a drug overdose.
(Getty)
NEW BOOK DETAILS RIVER PHOENIX A SHORT LIVE ON THE ANNIVERSARY OF HIS DEATH
Phoenix died of a drug overdose at the famous club. He was still only 23 years old.
The 'Titanic' star said that he had a conversation about a role in "Interview with the Vampire" that went to Christian Slater. Phoenix was originally cast in the role before he died. Although DiCaprio never personally knew or spoke with Phoenix, he says that he somehow felt a deep loss at the young actor's passing.
CLICK HERE FOR THE FOX NEWS APP
"It was almost like — I don't know how to describe it, but it is this existential thing where I feel … he disappeared before my eyes, and the tragedy that I felt after the loss of this great influence for me and all of my friends," DiCaprio admitted. "The actor we already talked about. Just to be able to be who always wanted to be — and I remember extending my hand out, and then … Two people came to the front and then I looked back, and then he wasn't there."